Back to Blogs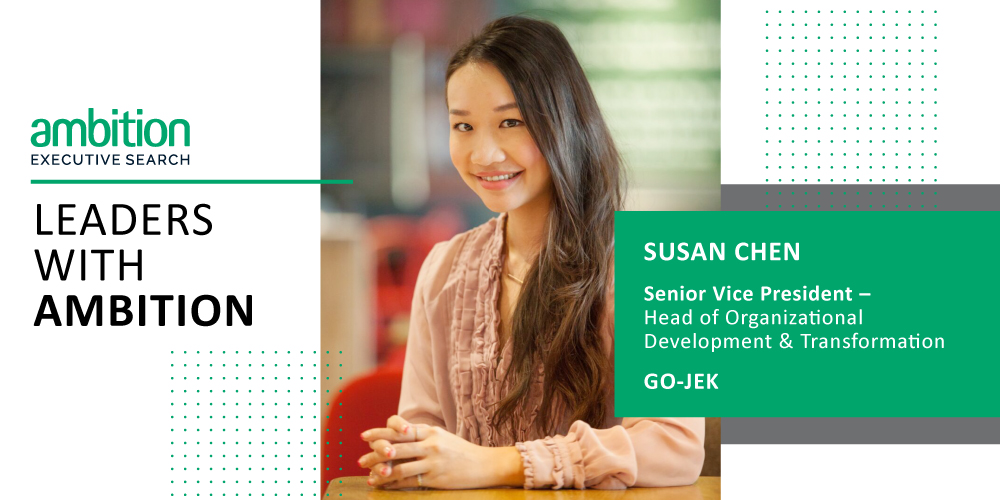 Leaders with Ambition - An interview with Susan Chen of Go-Jek
In this edition of Leaders with Ambition, we interviewed Dr. Susan P. Chen, who shares with us her experiences working in HR in several countries such as UK, Norway, Singapore, and Indonesia, as well as her achievements and personal inspirations. Susan is currently the Senior Vice President – Head of Organizational Development & Transformation at the GO-JEK Group, based in Jakarta, Indonesia.
GO-JEK is Indonesia's first unicorn and fastest growing startup in South Asia. It started as a bike-taxi hailing business and grew by more than 900X in just 18 months. They have since diversified into food delivery, one-hour courier delivery, grocery delivery and on-demand service delivery through its integrated platform.
GO-JEK has its home base in Indonesia but is growing and expanding into different markets. Susan's role is to partner with the business through the facilitation of effective organizational changes, and deliver on business growth and transformation through people strategy transformation. She currently focuses on GO-JEK's international expansion, as well as global HR transformation.
1. How did you get to your position today?
Too often, we think about career growth in a vertical manner. We are always searching for the next bigger and better paying job. Reflecting on my career, I was able to grow into my current position by taking a deliberate and non-conventional route of making multiple horizontal (and at times, they came with a pay cut!) career moves and being exposed to many different industries and countries. I have learned and grown as an HR specialist, and as an HR strategist and generalist across 6 industries and 4 countries to date.
There were a few turning points as I reflect on the path I took:
At 24, I turned down the offer to become the regional HR head, post-acquisition in the hospitality industry, as I recognized the need to continue learning and growing my HR technical skillset in knowledge-intensive industries. With that in mind, I took a more junior HR management position with a newly-merged Norwegian state oil company and relocated from London to Norway. In that move, I had the opportunity to learn and adopt a 'best-practices' approach in an established HR environment.
At 27, I relocated to Singapore to take on an interim country head of HR role instead of continuing to grow in the larger and established HQ. Through this move, I learned to scale HR practices and lead HR transformation across geographies.
At 31, I relocated to Indonesia without prior networks, friends, and family. This move allowed me to learn C-level HR partnership and be hands-on in driving social impact through talent engagement and business model transformation.
By examining each and every career move with the clarity on what I want to learn and what I can contribute has allowed me to grow into the position that I am in today.
2. What inspires you?
People who want to make a positive change in the world are the ones who inspire me. The people that do things not to feed their egos or bank accounts, but to build a better world for others consistently act as my source of inspiration.
Since coming to Indonesia, I have learned to reflect more on my work and the social impact that I can bring by appreciating different circumstances and different levels of maturity of the markets. I am inspired by the people, entrepreneurs, and teams who are constantly thinking about solutions for the greater good. To me, that is the essence of leadership and it inspires me to constantly do better.
Inspiration is not always about the positive implications, but it also allows for critical assessment of situations which serve as inspiration for doing things differently. Recent stories of the rescue of the Thai students were a source of inspiration – one, by the group of amazing people who risked their lives and saved the Thai children and their coach in the cave and two, by reflecting critically on the different innovative approaches by those in Western countries served as a source of inspiration to solve problems differently, given different contexts and intent.
3. From your first job until present, what important lessons have you learned along the way?
When I put my hand up to try my first HR management role without the title and pay at 23, I learned the important lesson to be brave enough to get out from your comfort zone and earn your credibility. It led to my first promotion to the regional HR role at 24 and continues to serve as a reminder that one needs to earn your titles and promotions, and not through entitlement or assumption.
The second lesson I learned, which we reflected earlier on the path to success, was that career growth is not always represented by bigger titles and more money. Throughout my career, I have taken at least 3 pay drops and 2 title drops to move into new roles and learn new things. This has allowed me to learn from each role and it may not necessarily contribute towards vertical growth. It can be good to take a step back and look at growing horizontally in your career.
The third lesson I learned, and continue to learn, is to make peace with imperfections and live with vulnerability. With multiple career moves while focusing on transformation, sometimes I am successful in those adventures, and sometimes, not so much. Each of these successes and failures is a learning opportunity and one worth reflecting on.
4. What is the most valuable advice you have been given?
I was given this piece of advice when I was 16 by a statistics teacher – Focus on your strengths, but do enough to make sure your weakness does not become your obstacle to success.
What I love about this piece of advice is how pragmatic and practical it is. It points to you following your passions and strengths, while understanding what are the pre-requisites to your success. It reminded me to focus on my strengths and not abandon my weaknesses and to ensure that I do sufficiently well on them so it does not become the bottleneck of my success. It also serves as a great reminder to own my weaknesses.
I remember him telling me that I would be successful in life but it will not be through statistics. I am just not that great at it! He told me to just be good enough to pass my high school statistics exam, go to university and pick a field of study that I am passionate about (which ended up to be organizational studies, before it was called HR!), and pursue my success that way. I did get the minimum score that I needed and off I went to pursue my passion at university. It was a great piece of advice that has stayed with me all these years; to focus on what I am passionate about but also understand what the fundamentals are, the ones I can't give up, and ensure I don't let them hold me back.
This advice has also translated into my work where I look at activating and unlocking people's potential through their strengths. When it comes to performance management, organizations tend to focus on areas of improvement and how employees can improve. Perhaps the larger opportunities are to focus on facilitating and supporting individuals to understand their strengths, as well as identifying the fundamentals required to support those strengths in a relevant work context.
This requires a fundamental mindset change to shift the individual's focus from improving their weaknesses in driving their strengths, towards actual delivery and success.
In my case, I need to have a good level of financial literacy and understanding of commercial drivers to excel as a strategic HR business partner. But I am fully aware that my strength is not in numbers such as financial modelling. This is nothing to feel bad about! Rather, I think of how I would go about working with someone who is an expert in financial modelling and collaborate closely with them to translate the requirements into business and HR strategies.
Learn with humility to deal with your own and others' shortfalls has been a great advice that I continue to embrace.
5. Are there any opportunities that you wish you had taken?
I try to live life with no regrets! Once, I did turn down an opportunity to work in New York, which could have been an interesting growth opportunity, given that I have never worked or studied in the US!
I think if I could re-do my career, I may want to try something outside of the HR field, such as general management or something creative, before focusing on HR for the majority of my career to the point where I committed time and energy on a PhD in HR!
6. Can you give me 3 things on your 'bucket list'?
Definitely hope I can tick them off soon!
Visit Iceland & Antarctica

Jump off a plane

Start an educational institution
7. What 3 words would you use to describe yourself?
Tenacious, impatient and engaging.
8. If you won a lottery ticket worth $10 million, what would you do?
To fulfil my bucket list faster and add more to the list!