Back to Blogs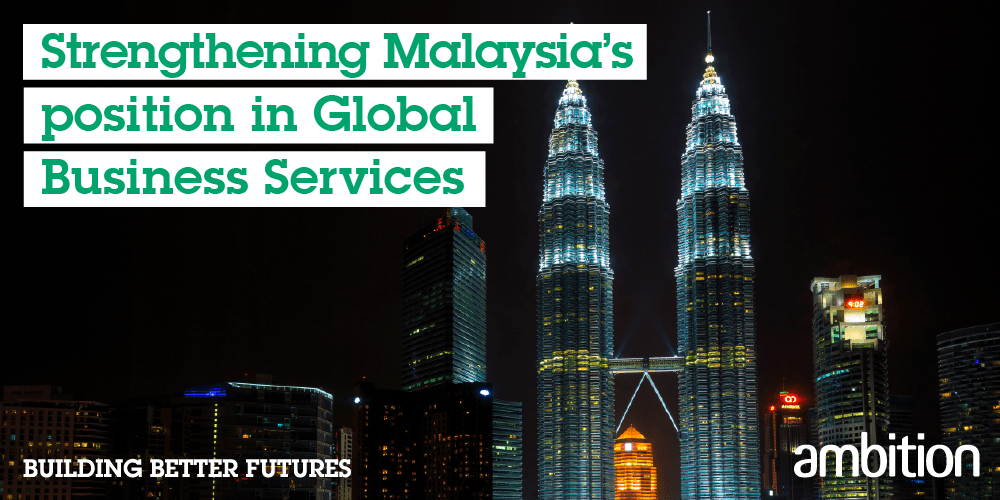 Strengthening Malaysia's position in Global Business Services
Agility. The one key ingredient that has enabled Malaysia to build on its position within the Global Business Services (GBS) space. Ambition recently conducted a virtual roundtable discussion with several GBS directors in Malaysia to share insights and ideas, and to discuss the current market. Read on to discover the successes, challenges, and opportunities faced by organisations this year.
​
Successes​
Most GBS organisations in Malaysia were able to very quickly transition from office work to 100% remote working when the pandemic hit, with minimal interruption to productivity levels. Interestingly, some organisations observed an increase in productivity levels, which may be due to a reduction in commute time by employees, amongst other possibilities.
The pandemic has fuelled innovation in the industry, driving organisations to adopt changes in processes, behaviours, and technology. The GBS industry, in particular, was able to implement paperless solutions and robotics, and gained more demand from key stakeholders to transition more work into hubs. This was reflected by the quick bounce back in hiring activities in the GBS industry, within a couple of months from our very first MCO in Malaysia. Organisations, who had to put innovation and transformation on hold last year, have since realised that the climate is now perfect to raise the levels and investment in this area. As GBS organisations strive to do more with less, agility and innovation have become a top priority for these leaders.
People engagement has surprisingly increased since the pandemic hit, and companies attribute this to the flexibility and trust given to employees, on top of all the virtual engagement initiatives they have introduced. However, leaders are also conscious that this may not continue over the long-term due to the lack of in-person engagement.
​
Challenges & Opportunities
Border closures have meant that organisations face challenges in hiring foreign talent into Malaysia, in particular to meet key language requirements and demand for niche tech skills. Therefore, this has led to a focus on Malaysian talent with such skills. To companies, this meant that they have had to either pay a premium to attract such talent, or invest more in training and development as they relaxed their hiring requirements. However, most would agree that this is not sustainable from a talent retention and cost perspective, and some GBS organisations are looking into hiring employees to be based in their home countries until the situation improves. This has also driven leaders to think about the possibility of moving work under Malaysia GBS operations, though not necessarily having the permanent headcount to be based here.
​
Looking Forward
One thing is for sure, almost every GBS organisation will move towards a hybrid working model, which means that a mix of remote working and working from the office is here to stay. While 100% remote working is the norm right now, GBS leaders have all agreed that having people back in the office for some face time is key to maintaining the culture and engagement in a people-powered industry.
There are several organisations that have made the decision to downsize their office space, and revamp the office environment to allow more agility. Examples include hot-desking, community areas, and the introduction of virtual booking systems for meeting rooms.
Most organisations are still in discussions on this, and they foresee that the new normal will only begin once most of Malaysia has been vaccinated. GBS organisations are starting to show interest in the SELangkah programme to get employees vaccinated, and we will hopefully see more development in this area over the next few months.
Thank you to all of our attendees for participating in this insightful discussion and we look forward to hosting another engaging session soon!