Back to Blogs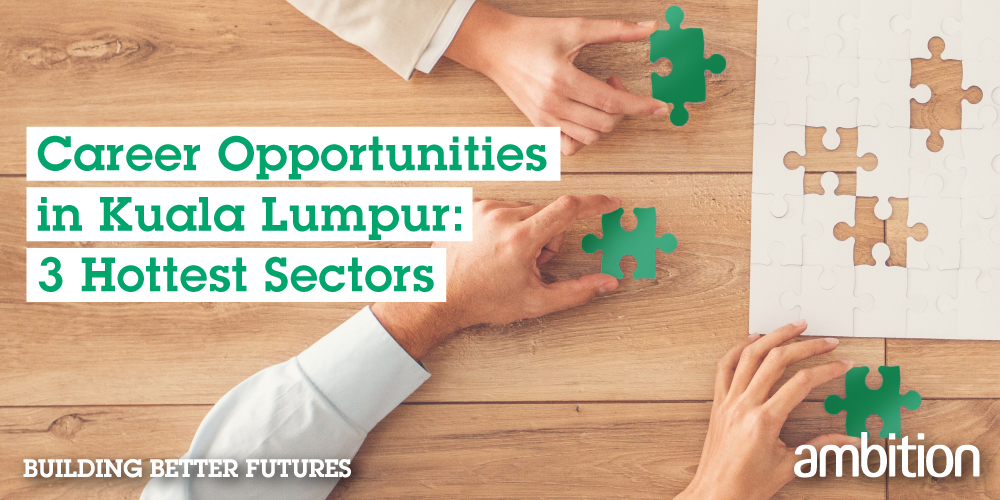 Career Opportunities in Kuala Lumpur: 3 Hottest Sectors
Everyone is looking to dip their toes in the next up and coming market especially in Asia. As a multinational recruitment firm, we are no different. In fact, our business in Kuala Lumpur has the most potential for future growth in the next 5-10 years. The employment market here is fast-paced and dynamic underpinned by a stable political system and a well-developed legal framework. Many MNCs have already established a footprint in Kuala Lumpur, providing high-value employment opportunities and there is an increasing talent pool of skilled professionals.
With the increasing levels of competition, here are the 3 hottest, most active sectors we are seeing at the moment.
1. TECHNOLOGY
There have been huge investments in all areas of technology in Kuala Lumpur. However, if we drill down to specifics:
a. The demand for DevOps Professionals is extremely high.
With mobile tech, disruptive technologies and developments in Artificial Intelligence changing the way businesses operate, DevOps enables organizations to achieve fast application delivery, enhanced innovation and increased efficiencies. Therefore, the demand for well qualified DevOps professionals is high to increase cooperation between the development and IT operations teams.
b. Highly qualified Digital Professionals are also in demand.
An increased focus on automation and the advent of 'Big Data' are key trends driving this and there has been a significant rise in the number of data analytics roles in the market. ETL experience, Python, SAS are all in-demand skills sets.
c. The demand for IT professionals experienced in the implementation of cloud-based platforms is high.
More and more companies are ditching the traditional servers and going straight to cloud-based environments. This trend also drives an increased focus on cybersecurity which remains a niche but in-demand skills set.
2. SHARED SERVICES
Malaysia, and Kuala Lumpur specifically, has always been a popular destination for Shared Services combining a skilled workforce with lower operating costs and a stable legal framework. As well as the more traditional back-office shared Service functions such as AP/AR and IT, there is also a growing trend of regional/global Financial Planning and Analysis functions being brought into Kuala Lumpur to establish global 'centres of excellence'. We expect this trend to continue.
We are also expecting to see growth in the area of procurement shared services as many organisations are looking to establish procurement hubs in Malaysia after the success of IT and Finance being localised here.
3. GOVERNANCE within the Banking & Financial Services industry
With the Central Bank in Malaysia implementing a host of new measures and regulations and additionally with banks needing to ensure compliance with Basel 3 guidelines, banks here in KL have responded by continuing to hire highly qualified governance professionals to improve and implement their Compliance, Risk Management, Audit and Anti-Money Laundering (AML) programs.
Watch this space for our H1 2020 Market Insights to find out more about each industry in detail or reach out to our team of well-versed recruitment consultants here:
Banking & Financial Services
Finance & Accounting
Supply Chain & Procurement
Technology & Digital
Sales & Marketing