Back to Blogs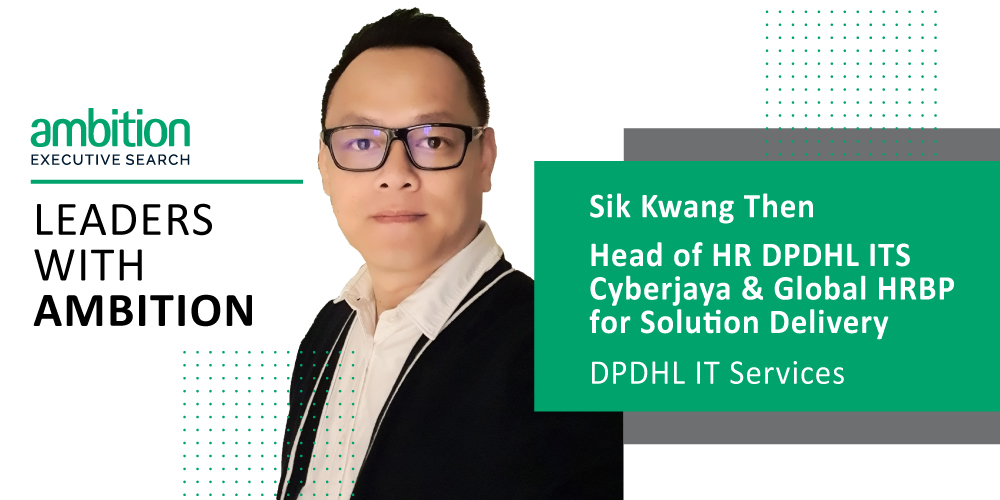 Leaders with Ambition – An interview with Sik Kwang Then
For Sik Kwang Then, he holds his head up high whenever he faces adversity. And that's the exact attitude that helped him become a key leader in DHL and his field. With our ever-changing business landscape, his perseverance and determination are the traits needed to grow, develop and excel. Learn more about his grit and how what doesn't kill you only makes you stronger by reading on.
Sik Kwang Then is the Head of HR DPDHL ITS Cyberjaya & Global HRBP for Solution Delivery at DPDHL IT Services.
1. How did you get to your position today?
I would say through patience and passion.
Patience
My career path, as with most senior leaders, is not a straightforward one and having patience has carried me this far. I started with building my technical expertise and then developing business acumen and leadership and now, my focus is on continuous learning and leading various human capital areas.
Passion
Throughout my professional journey, I have always been passionate about finding a balance between helping others and ensuring the organisation's goals are achieved.
2. From your first job until now, what important lessons have you learnt along the way?
Many! The main lesson, which I am also using as my life motto, is that "Difficulties will only make you do better". Just like anyone else, I've learnt that life is full of challenges as well as opportunities. But I believe that those challenges (which I take as opportunities) that arrive on our plate won't pull us down but will only make us better. So, keep moving forward.
There are also other lessons such as "There are two sides to every coin". I also learnt about "Gegenpressing" which is a football tactic where a team, after losing possession of the ball, immediately attempts to regain possession. You can think of this as "Regaining composure" - there will be a time when we lose our focus and our "possession of the ball" but it is important for us to get back up and regain our composure to continue moving forward.
3. Who is your role model, and could you tell us a bit about them?
Personally, and this may seem a bit cliché, it's my mother who always taught me to "Put Others First".
From a professional point of view, I like Indonesia's President, Mr Jokowi, and his motto "Kerja, Kerja, Kerja" (Work, Work, Work). Although it sounds like he is only focused on the results achieved through hard work, the way he achieved his results was really respectable. He is also humble and seems to really care about his country and its people.
Also, Respect and Result is our organisation's guiding principle, so it suits me very well.
4. What inspires you?
Willingness and Determination.
I have a soft spot for people who show their willingness to perform their very best, those who are not driven by hidden agenda or any form of material recognition but a pure willingness to give and share their added values to others and the organisation. I believe, with such spirit, this type of people will be successful in their personal as well as professional lives.
5. What is your greatest achievement to date?
Being a husband and the father of my children. That, I think, would be my greatest and proudest achievement.
I find that all achievements are great achievements. Of course, being trusted in my current role is not only a great achievement but also a humbling one.
6. What is the biggest challenge you've faced in your career and how did you overcome it?
If I had to choose just one, it would be when I was managing a financial transformation programme back in Europe. Before my colleague and I stepped in, the programme was not progressing at the rate it should have. While it was challenging, it was also a great learning opportunity. On top of developing my expertise, skills and planning, I learnt that communication, openness and having a common goal at all stakeholder levels also drive success. It helped us turn things around and make the programme a great success.
7. What is the most valuable advice you have been given?
Pray, Do Your Best and Have Fun.
Especially "Do Your Best" as I feel there is nothing more than that. We can only do our best. So, when you feel like you're failing, look in the mirror and ask yourself "Have you done your best?". If your answer is NO, then go back and give it your very best. If your answer is YES, then make peace with yourself, ask others for help and accept the situation. After all, what's best other than our own best self?
8. What advice would you give to professionals looking to excel in their career?
If it fits your values, remember this "Difficulties will only make you do better". No one knows you better than yourself. So rock on and keep moving forward!
9. What are 3 things in your bucket list?
1. I've always wanted to try sky diving, but I have yet to muster up the courage to do so.
2. To be able to write a book
3. To travel with my family more often
10. What 3 words would you use to describe yourself?
Determined
Result-oriented
Fun
11. If you could live in any country in the world, where would you live?
Hallstatt, Austria. But maybe when I'm a lot older.
12. If you won a lottery ticket worth US$10 million, what would you do?
Build a school for less fortunate children.
Build a church/community centre which can be used as a shelter for those in need.
Secure my family's needs financially (i.e. children's education).
Have a holiday with my family for sure.