Back to Blogs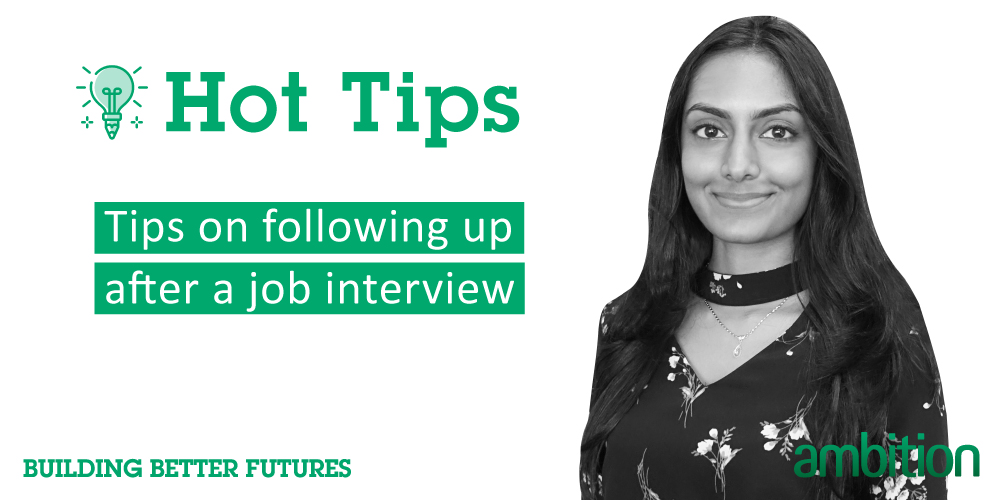 Tips for following up after a job interview
You've just finished your interview, what's next? Follow up. Yes, you probably know that by now but the question is HOW?
Here are some Hot Tips on how to follow up after a job interview:
You can start even before you leave the building
Networking is a great way to connect with your interviewer. You can do this the old-fashioned way with business cards or by connecting with them on professional platforms such as LinkedIn.

Make a quick note on your phone or notebook on the topics discussed during the interview as you may want to mention this in your email.
What to include in your follow-up email
Do you find your fingers frozen over your keyboard and your mind completely blank? Use this mnemonic to help you write your email: TRIM
Thank your interviewers for taking the time to meet you.
Relevant skills and qualifications – reiterate them to show the interviewer you're the right person for the job.
Interest – tell your interviewer that you're keen to take up this job, but only if you are interested. Be honest.
Missed out something or had a slip of the tongue? If there is something you'd like to clarify with the interviewer, this is your chance to do so.
Email Tips
Send the email to everyone who interviewed you.

Make it easy for them to get back to you by including your phone number and email address.

Don't wait. Send your email within 24 hours of the interview, the sooner the better.

Proofread your email. A typo or grammatical error can be a turn-off and knock you out of contention. Be particularly mindful of people's names.
Bonus Tip: Follow-up Phone Call
If you're feeling brave and looking to stand out, why not give your interviewer a follow-up phone call? What's more, if the job involves a lot of phone time, a call can show you have strong communication skills. It also helps to make a list of points you want to mention ahead of time.
Once you've picked up the phone, always start by stating your name (use your full name), the position you interviewed for, and when you met. You can then move on to your list of points.
​
If you have any queries, reach out to any of our consultants for more personalised tips for your next interview: https://www.ambition.com.my/consultants
All the best in your job search!