Back to Blogs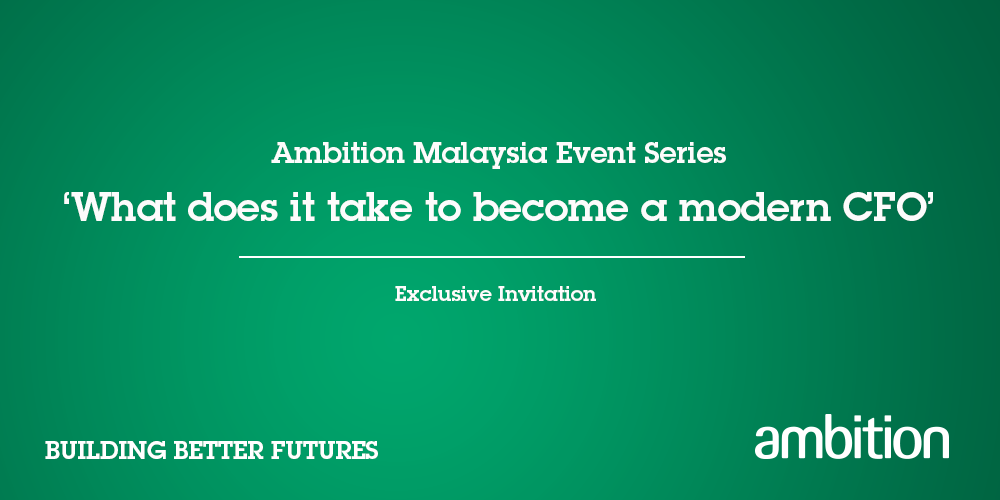 Event Series | What does it take to become a modern CFO
We are delighted to invite you to Ambition Singapore's latest event series 'What does it take to become a modern CFO' Breakfast Seminar. Our event will examine the challenges faced by senior finance professionals in their current roles and how their job and what is expected of them is continuously changing.
Come and join us for an interactive discussion with our distinguished panel of speakers:
Mabel Cheng, Chief Financial Officer at Standard Chartered Bank

Syed Hyder Hasan, Global Finance Director at PureCircle Ltd

Date: Thursday, 13 October 2016

Time: 6:30pm – 9.00pm

Venue: Ambition | Integra Tower, The Intermark, Suite 20-03, Level 20, 348 Jalan Tun Razak 50400 Kuala Lumpur


Mabel Cheng - Chief Financial Officer, Standard Chartered Bank




Mabel joined the bank in January 2014 as the Financial Controller for Standard Chartered Bank Malaysia and since May 2014 assumed the role of Acting CFO for Standard Chartered Bank Malaysia.

Previously an Executive Director in Morgan Stanley and Head of Asia Pacific for Global Accounting Advisory and Policy based in Hong Kong, Mabel oversaw 7 Asia Pacific countries. Prior to that, she was with JPMorganChase in London as a Vice President heading up the financial reporting team for the UK legal entities. She is a qualified Chartered Accountant in Australia and born in Malaysia.

Her current responsibilities include oversight of all finance related functions including financial reporting and controls, business performance, asset and liability management, technical advisory guidance, tax compliance, treasury and regulatory reporting matters for Malaysia. Mabel also provides leadership support to the finance team on any day to day management.

Syded Hyder Hasan - Global Finance Director, PureCircle Ltd

Syed Hyder Hasan is the Global Finance Director of PureCircle Ltd where he is the core member of the global finance leadership team. PureCircle is a foods company and a global leader in production and marketing of high purity Stevia ingredients and flavours.



Most of Hyder's progressive career was with Unilever where he performed global, regional and country roles. With a career span of more than 18 years, he managed to get the right balance of finance business partnering and core accounting and finance roles. This gave him the depth and breadth of a balanced finance career. He is knowledgeable and familiar with all aspects of corporate finance, designing & setting business designing and implementing strategies, innovation financial evaluations, category development, finance controllership, financial planning & analysis, financial forecasting, budgeting, risk management and audits. His experience includes working with Board of Directors and being part of the Senior Leadership teams.


Prior to his current role, he has worked as the Finance Controller for Unilever Singapore, Malaysia & Brunei. He has also worked in the Beauty Category for Unilever as the Global Senior Finance Business Partner for Asia, Africa, Middle East and Turkey, while based in Thailand, Finance Manager for the Home Care business in the Philippines and Treasury Manager for Unilever Pakistan.

Hyder has had professional development education from Stanford University in Strategic Decision and Risk Management. His is also a Fellow member of Cost & Management Accountants (FCMA) and holds a Bachelor of Commerce degree.

More about the event:
In the past 10 years, the traditional role of the senior finance professional has transformed. Increasingly finance executives are acting as a business partner to the organisation and as well as advising on financial issues, they are also advising the senior management on issues such as business strategy, technology & innovation and talent attraction & retention.
Our panel will be discussing some of the key challenges that senior finance professionals are now facing in their current roles in Asia, sharing their own expectations on requirements to become a CFO and their tips on how to take the next career step into the CFO role.

This event is also a great opportunity for you to network with like-minded professionals.
We look forward to seeing you there.
Yours sincerely,