Back to Blogs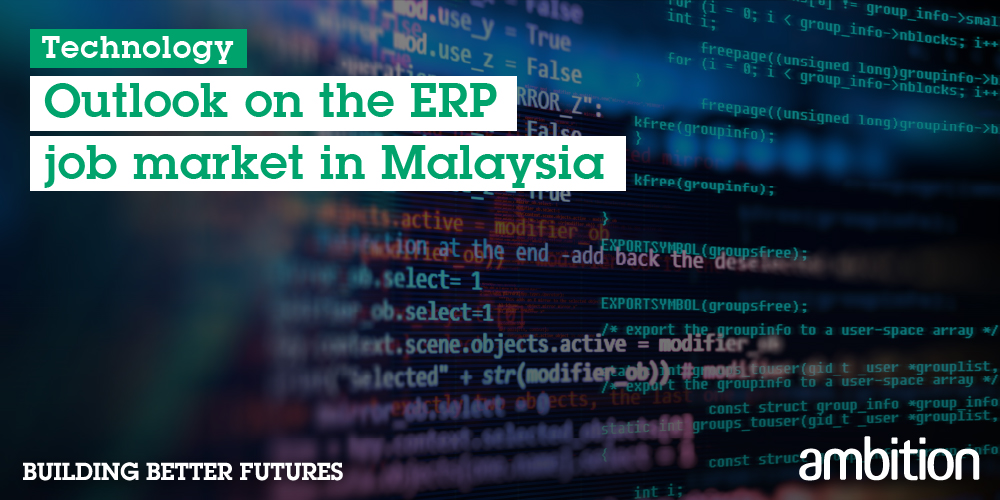 Outlook on the enterprise resource planning (ERP) job market in Malaysia
Enterprise resource planning (ERP) refers to a type of system that companies use to manage and integrate day-to-day business processes within one platform. This system is applicable and in high demand across a broad range of industries, which in turn offers diverse career opportunities. Some of the common positions that are available within this field include technical roles (i.e. developers), techno-functional roles (i.e. consultants), and functional roles (i.e. business analysts, project managers).
With that said, you are probably wondering what the current outlook for the ERP job market looks like. In this blog, I will address some of the frequently asked questions we have received based on my own observations and experiences in hiring for these roles in Malaysia.
Which ERP system is commonly implemented in Malaysia?
Currently, there are over 500 companies registered as global business services (GBS) or shared services centres (SSC) across business process outsourcing, IT outsourcing, and knowledge process outsourcing. Based on a similar trend we have seen in the past, these companies would most likely be using or implementing well-known ERP systems such as SAP and Oracle as they offer greater scalability and customisable features.
Aside from SAP and Oracle, we noticed that there are companies hiring talent who are skilled in Workday, Salesforce, or Microsoft Dynamics. These talent are mostly hired to support the regional hub functions that include technology, finance, human resources, sales and marketing, and supply chain and procurement.
There are also smaller companies that are recruiting for similar talent. The demand from consulting firms for ERP professionals – particularly SAP, has been steadily increasing over the past 6 months.
What are the ERP positions available in Malaysia?
As previously mentioned, common ERP positions include technical, techno-functional, and functional roles. Technical roles, where advanced programming experience is required, will always be in high demand.
The same goes for techno-functional roles where responsibilities may include providing L1 and L2 support, apart from project implementation. Although these are not 100% hands-on roles, basic ERP configuration skills are still needed.
Lastly, there are the functional roles which do not rely on hands-on development skills. Other skills such as stakeholder management and resource management are prioritised. However, it will be an added advantage if you have an adequate understanding of ERP systems.
How do I transition into an ERP role?
A transition into an ERP role is similar to any other career transition into the IT industry. It is important to understand that for the transition to happen, you will need to be interested in ERP as a platform and possess sufficient knowledge of any relevant technologies. You may also want to consider picking up additional courses to learn more about it.
If you are planning on transitioning into an ERP role without prior experience, then you may need to manage your salary expectations as there is a possibility you will be considered as an entry level hire. Keep in mind that the employers will provide training opportunities which they need to factor into the hiring budget.
Considering the COVID-19 situation in Malaysia, how is the current job market for ERP roles?
Many companies will continue their hiring activities despite the pandemic. Demand will only continue to grow because of the companies' attrition rates and expansion plans. Career progression within this vertical is definitely fulfilling and well-compensated – especially now that technology is considered an essential component to ensure the sustainability of a company's growth.
As a veteran IT professional in an ERP role, how can I progress in my career?
There are limited ERP senior management positions within end-user environment. Majority of the companies would already have their own senior management team regionally or globally with the objective to optimise their operational efficiency and effectiveness.
Thus, if you would like to progress your career, you will need to give your career aspirations some thought. Decide which career path you would like to venture into – be it end-user, service provider, system integrator, or consulting. Once you've decided on the direction you wish to take, you should be able to visualise your career path within your organisation.
Additionally, it is also important to consider what type of employment you would like to pursue – contract or permanent. Both provide different levels of job satisfaction and compensation. Contract roles provide you with greater exposure to a variety of projects and opportunities to upskill within a short period of time, with higher compensation and flexibility. On the other hand, permanent roles will provide you with more stability and consistency of workflow.
The technology landscape is constantly evolving. Since change often brings with it the unknown, don't let the fear of the unknown hold you back. As long as the role you would like to pursue fulfils your expectations and fuels your motivation, then it is a role worth pursuing. If you want further information on career opportunities within ERP space, feel free to reach out to me.