Back to Blogs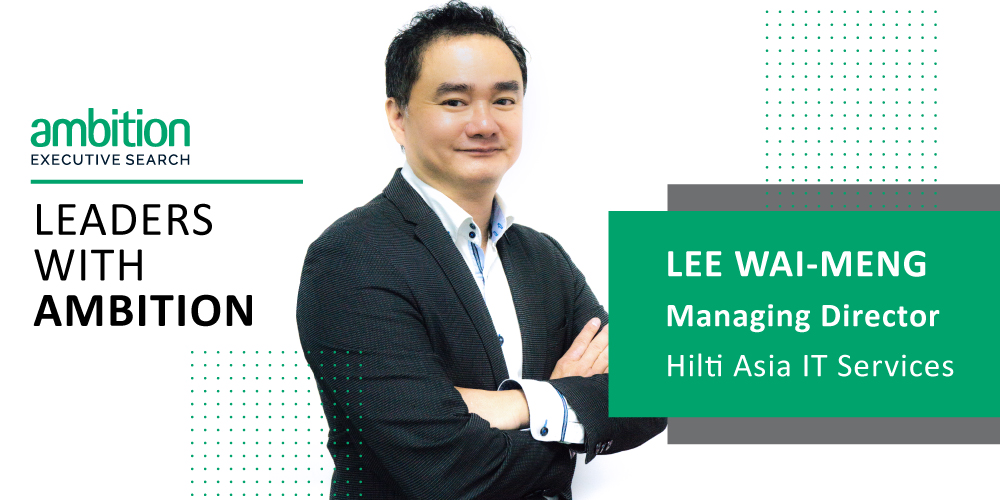 Leaders with Ambition – An interview with Lee Wai-Meng
Lessons should be learnt but not forgotten. Lee Wai-Meng, Managing Director at Hilti Asia IT Services, shares with us how he has gotten to where he is today by understanding that his career is a lifelong journey of learning. Read on to find out how he has taken lessons from all the ups and downs in his career.
How did you come to your position today?
I started off my career many years ago as a young and energetic IT system engineer working in an IT reseller/system integrator environment. Since then, I have taken small steps in developing myself from being a technical person to an IT leader today.
Throughout my career, I am privileged to have worked with some renowned international brands like Siemens, Shell, T-Systems and Hilti and was offered opportunities to further enrich my career development in countries like Australia, Slovakia and the Netherlands where I honed my skills in leading international teams across the continents while forging good professional connections.
In my current role, I am entrusted to continue supporting the development of a world-class IT competence centre of our organization in Asia. The team in Asia covers a wide spectrum of IT services and solutions with a strong focus on adding value to our business, talent development and culture to enable the growth of a diversified, highly skilled and engaged workforce into Hilti's IT leaders of tomorrow.
From your first job until now, what important lessons have you learnt along the way?

Be reliable, always deliver what you have promised. Do not over-promise and under-deliver.

As a leader, active listening and empathy are important traits to do your job well.

Being a leader, you must empower your team to deliver on the agreed goals and help them to remove the blockers for reaching these goals.
Who is your role model and tell us a bit about them?
My role models in life are my parents. I come from a big family of six siblings and my parents were not well-to-do. Despite having to endure all the hardships, they worked hard to ensure that we always had food on the table, and most importantly they never compromised on the education of their children. I am so lucky to have the upbringing I had which was filled with lessons, learning, and love. The values that my parents introduced to me are not principles that are taught in an everyday classroom and will always be an integral part of my value system. My siblings and I grew up with this necessary foundation for a successful life and career.
What inspires you?

The achievements and successes of those under my care.

Seeing my son growing up and learning new things along the way.

Reading the biography of successful world leaders like Lee Kuan Yew.
What is your greatest achievement to date?
I increased the people engagement score in one of the previous companies I worked for by 16%, from 65% to 81%, which is a score that has not been achieved since the inception of this company in 2008. It is amongst the highest score compared to other companies in Malaysia. This was achieved in a short time span of 6 months where my team and I went the extra mile to roll out a series of people engagement activities to get people to talk, recognize and celebrate employee successes, create an engaging workplace as well as encourage the leadership team to walk the talk.
What is the biggest challenge you've faced in your career and how did you overcome it?
The biggest challenge I faced was when I was working for a large oil & gas company many years ago. It was somewhere in 2007 when the company made a strategic decision to outsource its IT infrastructure services to different service providers to focus on its core businesses. At that time, I had been with the company for almost 10 years and it was the company which I thought I wanted to spend the rest of my life working for.
Prior to the outsourcing date, I was given the opportunity to stay back with the company. However, since my passion was and still is IT, and knowing that in a couple of years after the outsourcing, there might not be many interesting IT jobs left in the company, I made a hard decision to move on to a service provider to continue pursuing my dream jobs in IT.
I have never regretted the decision I made after consulting with my previous managers, colleagues and friends. I was also given a lot of opportunities to continue developing my IT leadership career during my tenure with the service provider.
What is the most valuable advice you have been given?
Be humble and don't let success get to your head!
What advice would you give to professionals looking to excel in their career?
Career development has also been referred to as a journey, one that starts with understanding the self, the person each of us knows best. It is a journey that involves developing and refining personal goals. This journey unfolds as one gains knowledge and experience. The journey continues throughout life with the possibility of repeating the process at various stages in one's career lifetime. So, be patient and give yourself time to develop and grow in your career.
Can you give me 3 things on your 'bucket list'?

Take a year off to travel around the world with my wife and son

Start my own online or hospitality business

To own and live in a ranch
What 3 words would you use to describe yourself?

Charismatic

Engaging

Enthusiastic
If you could live in any country in the world, where would you live?
New Zealand
If you won a lottery ticket worth $10 million, what would you do?
I would invest it wisely in a diversified investment portfolio. I am not a gambler. I am one of those people that feel like: If I have worked hard for my money, I want to make sure everyone is taken care of and it is invested wisely.