Back to Blogs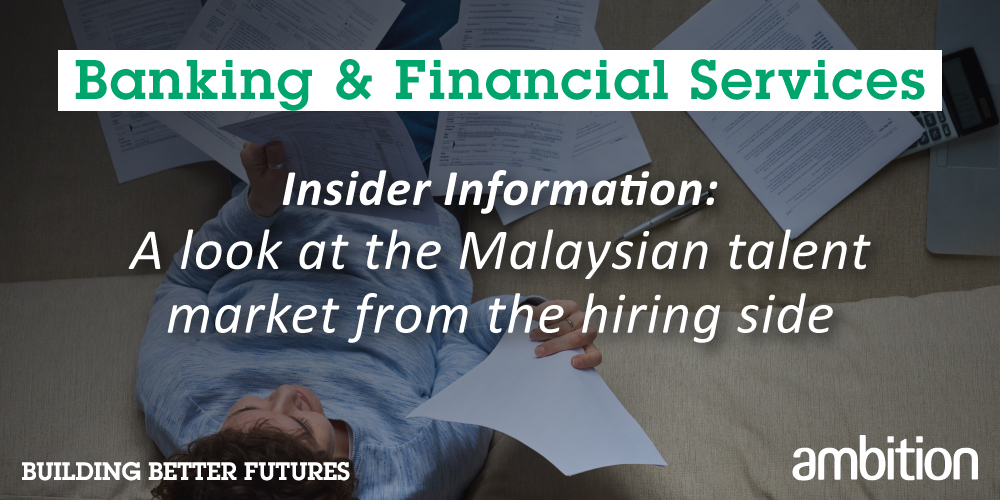 Insider Information: A look at the Malaysian talent market from the hiring side
Have you ever wished you knew what is that key attribute to getting the job and what a hiring manager's deal-breaker is? Find out in this article by Harvin Kaur, the Managing Consultant from Ambition Malaysia's Banking & Financial Services recruitment team.
​
What steps can professionals take to find out which aspect of the Banking & Financial Services industry would be suitable? How can they decide on a career path?
It is a given that you would need to do your research on market insights, but it is much better if you are able to meet industry experts to understand the current market trend better. They would be able to share their experience and valuable information that you just can't get from reading a book or an article.
What sector is up and coming in the Banking and Financial Services industry? What roles are currently in demand?
In Malaysia, there is an increased demand for roles associated with risk. This is largely due to Bank Negara Malaysia's regulations and the new guidelines that are being implemented. Furthermore, there is also an increase in hiring activity in the credit risk space across most banking firms. Professionals who are familiar with Basel II and Risk-Weighted Assets (RWA) are also highly sought after.
As a recruiter, you work with many companies and candidates. Based on your experience, what are some of the candidates' expectations that you think should be adjusted?
Candidates should adjust their expectations when it comes to salary. Most candidates would automatically presume the higher the salary, the better. There are even some candidates who expect more than 30% increment when moving to another company. Candidates need to be aware that the market rate is usually between 15-30% and subject to the years of experience. Candidates should also bear in mind that their movement to banks would indicate the banks' expense towards STF or staff training funds as required by Bank Negara Malaysia which is why banks usually do not pay more than 30% increment.
Can you list 3 questions that candidates struggle with the most during an interview?
What type of value can you bring to the role?

What is your biggest achievement in your current or past role?

What is the biggest motivation in your job search?
What is the best way to tackle these questions?
For Question 1, tell your interviewer how you can add value to the new job by sharing your expertise and skills you have.

Highlight the key activities such as projects during your tenure in the company to answer.

You could tackle this question by highlighting the push factor for leaving your current company. Bear in mind that you should do so in a mature and professional manner without any belittling of your current company.
​
What attributes do employers look for when hiring?
There's one common attribute that all employers look for: THE RIGHT ATTITUDE. Employers know that candidates with the right attitude will be able to go far and bring immense value to the firm.
How can candidates make the most of their recruiters?
Firstly, make sure that you provide your recruiter with as much information about yourself as possible. This should include skills, strengths, weaknesses, achievements and motivation.
Secondly, you should be transparent about the motivation for your job search and the push/pull factors. Be honest with your recruiters so that they can understand you better and know what you are looking for. That way, they will be able to help you look for the most suitable roles.
If you have any queries or would like to find out more about the available opportunities in the Banking & Financial Services industry, reach out to any of our recruitment consultants here: https://www.ambition.com.my/disciplines/banking-and-financialservices-jobs