Back to Blogs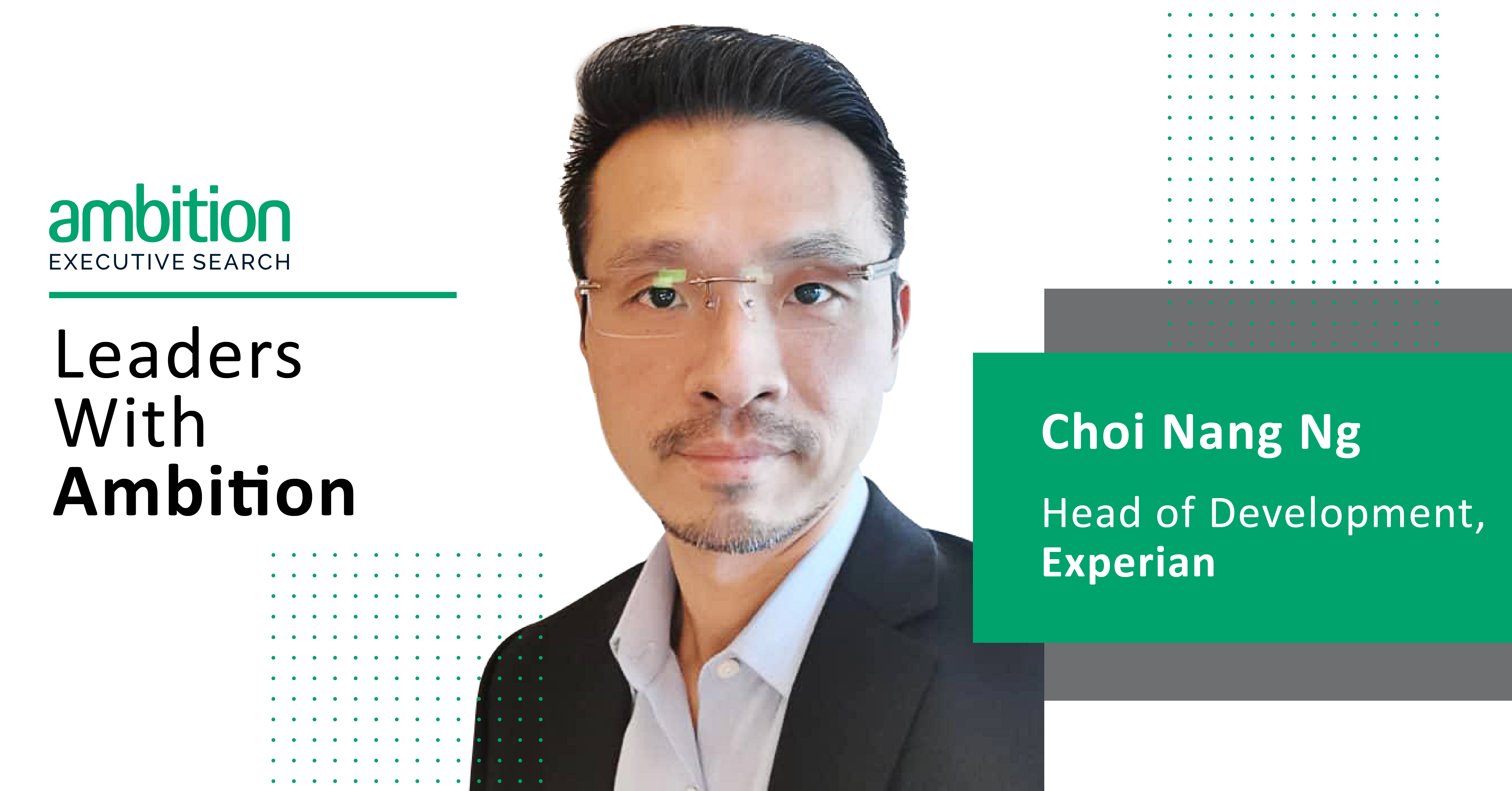 Leaders with Ambition – An interview with Choi Nang Ng
Learn and recover quickly from your mistakes. Choi Nang Ng, Head of Development at Experian, shares this useful piece of advice in his interview with Ambition. Throughout his extensive career, Choi Nang has faced numerous challenges and worked with incredible teams. Read more about the highs and lows of his career and other pieces of advice he has for professionals looking to expand their careers.
1. How did you get to your position today?
Definitely, my journey is something I could not have done alone. In every work situation and role, I would not be working in silo; I would be working in a team. It is also important to have passion in your work that will motivate you to produce your best work. I received a great level of support from the teams I worked with and this is a big contributing factor to where I am today.
2. From your first job until present, what important lessons have you learnt along the way?
The most important lesson that I've learnt is that you reap what you sow. Therefore, you should always give your best in everything you do.
3. Who is your role model and tell us a bit about them.
One of my role models is Tun Dr. Mahathir. I am always encouraged by his words of wisdom and perseverance. I think there is a lot to learn from the experiences that he has gone through and the fact that he is the oldest Prime Minister in the world really demonstrates his perseverance and dedication.
4. What inspires you?
I draw inspiration from a lot of different sources but one thing that I am constantly inspired by is seeing teamwork in action, where everyone comes together just to make things happen, regardless of their individual backgrounds.
5. What is your greatest achievement to date?
I am thankful to have a supportive family and I am blessed with 2 kids. I would say that they are my greatest achievement, even more than any of my career achievements.
6. What is the biggest challenge you've faced in your career and how did you overcome it?
It is inevitable that you will face challenges in your career. I always choose to focus on the positive. Challenges will always be there, but we can choose to see them as opportunities. Always look at the flip side of the coin and believe there is a solution to every problem. With every challenge, it also pushes you out of your comfort zone and it is an opportunity to learn.
​
7. What is the most valuable advice you have been given?
Do your best and trust in God for the rest.
8. What advice would you give to professionals looking to excel in their career?
Stay focused and always go the extra mile. Learn and recover quickly from your mistakes. Last but not least, continue to share and learn from one another.
9. Can you give me 3 things on your 'bucket list'?
- Completing a full marathon run
- Drumming in a live concert
- Travelling around the world
10. What 3 words would you use to describe yourself?
Determined, disciplined and humourous.
11. If you could live in any country in the world, where would you live?​
Hands down, it would have to be Malaysia. I can't live without my roti canai and teh tarik!
12. If you won a lottery ticket worth US$10 million, what would you do?
​I'll set up a music cafe where people can come enjoy good food and music.