Back to Blogs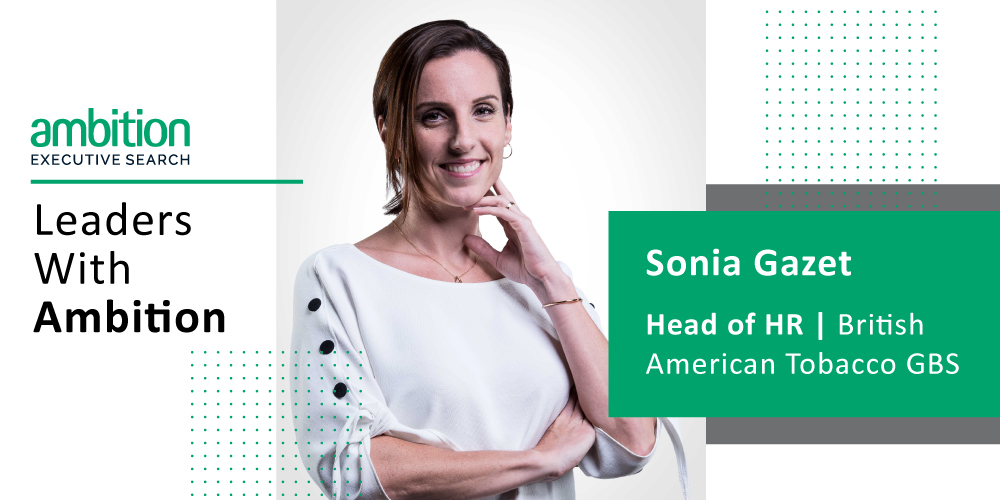 Leaders with Ambition – An interview with Sonia Gazet
Passion, courage and clarity. In this interview with Sonia Gazet, Head of HR at British American Tobacco GBS, she shares her personal stories that revolve around these 3 strong words and the journey she took to get to where she is today. Read the interview to find out more about her achievements and challenges, and what inspires her.
1. Describe your career path to your current position today.
I always knew I wanted an international career. After graduating and starting my career in Canada, I spent 10 years in Paris, gaining breadth and leadership experience in various HR roles in exciting companies such as Dell, Nike and VF Corporation. Then I moved to Malaysia 9 years ago and decided to explore non-profit organizations before returning to the corporate world at British American Tobacco.
In my current role, I am supporting the transformation of our organization. My team consists of HRBPs and Continuous Improvement Managers, and we are supported by our HR shared services team. We cover the entire spectrum of HR with a strong focus on talent development and culture to enable the growth of a diversified, highly skilled and engaged workforce into BAT's leaders of tomorrow.
2. What motivated you to follow your chosen profession?
Two main things motivated my career choices and still keep me excited on a daily basis: my passion for helping people develop and grow, and working with the soul of the organization.
3. What important lessons have you learnt in your career?
One lesson I learnt very early on is the importance of building strong relationships, with team members, peers, sponsors, or leaders. International careers can make this even more challenging because they make you develop high levels of resilience and agility, and it is important to develop equally high levels of emotional intelligence to maintain relationships throughout assignments.
4. Who is your role model and tell us a bit about them.
I do not have one specific role model, I look up to people who have the courage to stand up for what they believe in, regardless of age or status.
5. What inspires you?
At this point in my life, I find inspiration in other women leaders and how they are able to combine work and life. I find "work-life balance" is a moving goalpost and striking the right balance is a question of mindset. Seeing how successful women manage both aspects gives me perspective and sometimes creative ideas to maintain the balance.
6. What is your greatest achievement to date?
As a mother of two princesses, my children are my greatest achievement. I marvel every day at their energy, courage, passion and fresh outlook on life.
7. What is the biggest challenge you've faced in your career and how did you overcome it?
Adapting to a new culture is always a challenge when moving to a new country. Both times when I moved to Europe and then to Asia, I was starting new roles in new companies. This meant that I had to quickly understand the country or region's new cultures, ways of working and of managing people. At the same time, I also had to understand the "codes" of the new company's culture and having enough presence and impact to perform. Nevertheless, I would definitely take this challenge again as I have found each move extremely rewarding both personally and professionally.
8. What is the most valuable advice you have been given?
If you are in your comfort zone, you are not learning.
9. What advice would you give to professionals looking to excel in their career?
Know yourself. Be very clear on what you want and make sure you choose a career you are passionate about and that connects to your personal values. I often see young professionals expecting companies to provide them with a career plan that they will be passionate about and it rarely works. Young professionals need to set their own targets and understand what it takes to get there, both from a professional and a personal standpoint.
10. Can you give me 3 things on your 'bucket list'?
- See the northern lights
- Fly a plane
- Learn to play piano
11. What 3 words would you use to describe yourself?
Determined, true and passionate.

12. If you could live in any country in the world, where would you live?​
Spain ticks all the boxes for me; I speak the language, it is a great base to travel from, the country has a rich history, it's a place with a fun and vibrant culture, the weather is mild year round and the food is amazing.
13. If you won a lottery ticket worth US$10 million, what would you do?
I would take a year to travel around the world doing volunteer work with my husband and children.