Back to Blogs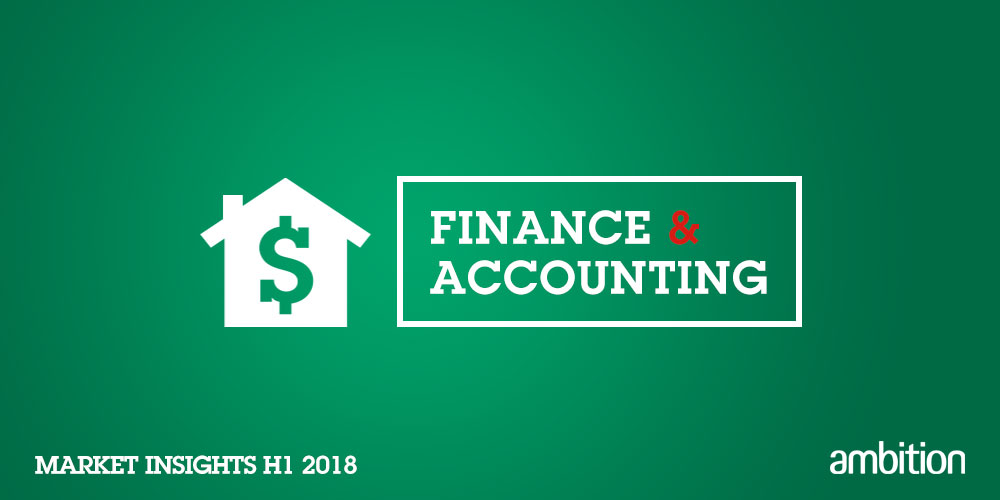 Finance & Accounting Market Insights H1 2018
The finance and accounting talent market was buoyant for H2 2017. The second half of 2017 saw the hiring market in Malaysia continue to build on a solid first half, supported by the eagerly awaited 2017/18 Economic Report published by the Finance Ministry of Malaysia in October 2017.
Robust hiring within corporate functions
Hiring within corporate functions was robust in 2017. According to the 2017/18 Economic Report, the average monthly salaries for employees with tertiary education encouragingly increased by 4.9% in 2017 as compared to 2016.
Decline in the number of expat employees
From the same report, we also learnt that there was, however, a decline in the number of expatriate employees, with the number of foreign workers decreasing by 10.3%. The main industries supporting expats continued to be significantly led by the services sector at 47.6%, followed by construction and manufacturing at 15.6% and 11.8% respectively.
Demand continued for commercial finance and FP&A talent
In 2017, the finance and accounting space continued to see the demand for commercial finance as well as financial planning and analysis (FP&A) talent, as organizations continued to seek strong financial business partners to support growth and cost reduction activities across the region.
The trend of regional finance roles being onshored to Malaysia from higher-cost neighbouring countries continued apace, and this looks set to continue into 2018.
Shared services: Lack of foreign language speakers

Within shared services, meeting the need for foreign language speakers has been a major challenge, with Japanese, Korean and Vietnamese language skills in very high demand. Professionals with verbal and written fluency could expect upwards of RM1,500 per month as an additional remuneration incentive. Established finance shared service centres have been looking for value-added FP&A talent, and there still remains a shortage in this area.
Talent outlook for the first half of 2018
Based on the 2017/18 Economic Report, the outlook for the first half of 2018 looks positive, with a stable economic growth forecast of 5-5.5%. The services sector predicts strong growth of around 5.8%, predominantly led by financial services. Inflation measured by Consumer Price Index is forecast to decrease, and a resilient economy coupled with further job creation should see unemployment drop slightly to 3.3% in 2018.
Within finance shared services, the growth looks set to continue, however as salaries rise further, some organisations are looking to lower cost neighbouring countries as locations to base or outsource transactional finance roles. The preference to locate value-added, mid-management and leadership positions in Malaysia while offshoring lower level roles may lead to some headcount reduction in the country, however, there will be an increase in opportunities for well-educated finance professionals to pursue their finance and accounting careers in Malaysia.
Finance & Accounting
Salary Report for H1 2018*
Job title

Years of experience

Annual salary range (RM$)

Audit / Internal Control

Head of Audit

12+

240K–420K

Internal / External Audit Manager

5–10

96K–180K

Internal / External Auditor

3–5

60K–102K

Financial Accounting

CFO

15+

420K–660K

Finance Director

12–15

336K–420K

Regional Financial Controller

10+

240K–360K

Financial Controller

8–10

180K–300K

Accounting Manager

6–10

120K–180K

Financial Accountant

3–6

70K–120K

Accounts Payable / Accounts Receivable Accountant

Up to 8 years

55K–72K

Management Accounting

Management Accounting Manager

8–10

120K–180K

Senior Management Accountant

5–8

90K–120K

Management Accountant

3–5

60K–108K

Planning & Analysis

Head of Planning & Analysis

10–12

216K–300K

Financial Planning & Analysis Manager

8–10

180K–240K

Senior Financial Analyst

6–8

96K–144K

Financial Analyst

3–6

60K–110K

Tax

Vice President / Head of Tax / Tax Director

12+

216K–420K

Tax Manager

8–12

120K–216K

Tax Accountant / Senior Accountant

3–7

49K–102K

Treasury

Head of Treasury

10–12+

180K–300K

Treasury Manager

7–10

96K–180K

Treasury Accountant

3–6

54K–96K

Finance Shared Services

Shared Services Head / Director

15+

420K–600K

Head of Function / Process - RTR, PTP, OTC

10–15

180K–360K

Team / Function Lead

5–10

84K–180K

Accountant / Senior Accountant

0–5

36K–84K
*Notes about salary table:
Titles and levels vary from organisation to organisation.

The salary ranges given are only approximate guides. For tailored salary advice, please contact us directly.

12-month base salaries are assumed.

All other benefits and bonuses are in addition to these figures.

Bonus ranges can vary significantly from company to company and will be influenced by market conditions, business and individual performances. Bonus ranges from 1 month at the low end to 100%+ at the upper.

Holiday entitlements range from 12–25 days with senior executives not usually receiving less than 18 days. Less than 15 is very rare and 20 days is becoming the norm.

Healthcare policies are standard.

Pension plans vary with some companies offering greater than the standard contribution. Top up schemes can increase employer contribution levels as much as 15– 20% of the base salary for senior executives.