Back to Blogs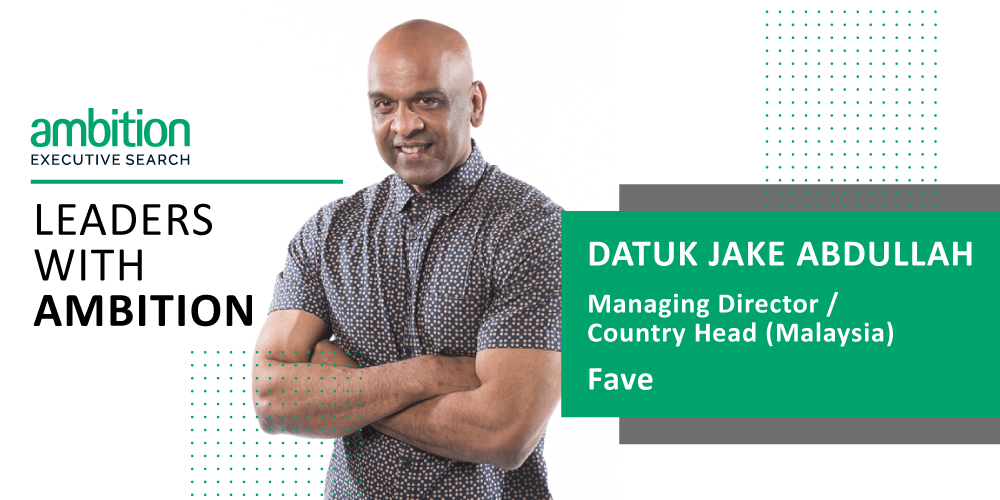 Leaders with Ambition – An interview with Datuk Jake Abdullah
​
Opportunity and the right attitude – these are the main ingredients that form Datuk Jake Abdullah's recipe for success. The former CEO of Astro Radio Malaysia and now Managing Director / Country Head (Malaysia) at Fave has consistently pushed the envelope in not only his career but also in the entertainment industry.
Datuk Jake Abdullah started off in the entertainment industry at a young age, dabbling in disc jockeying even when he was in secondary school. In 1996, he joined Astro Radio and worked his way up the ladder to become the CEO of Astro Radio Malaysia, serving in the role until 2019. Then, he decided to push himself further by taking up a new challenge and joining startup Fave.
1. What motivated you to follow your chosen profession?
Opportunity. I come from a family of five children and my father was a government servant. We had to learn to hustle from a young age to earn a living.
2. What important lessons have you learnt in your career?
Integrity is everything. Find something you are passionate about and try to make a living from it.
3. Who is your role model, and could you tell us a bit about them?
I like Dwayne Johnson (The Rock), but I wouldn't say that he is my role model. I like his rags to riches story and his philosophy - never give up.
4. What inspires you?
Life inspires me. It's all about the ability to wake up every morning, to keep pushing the envelope and making a change.
5. What is your greatest achievement to date?
My children, of course. I am blessed with three kids, two in their twenties and one in their teens. They have grown to be very independent and have good morals.
6. What is the biggest challenge you've faced in your career and how did you overcome it?
It would be moving from Astro Radio to Fave. After over 23 years in Astro Radio, I felt like I needed a new challenge but was afraid of uncertainties in the startup world. I am blessed to have great guidance from the founders Chen Chow and Joel. It has been a steep but rewarding learning curve.
7. What is the most valuable advice you have been given?
This too will pass, no matter what.
8. What advice would you give to professionals looking to follow a similar career path?
Follow your heart, not the money. Do what you really enjoy and make a career out of it.
9. What are 3 things in your bucket list?
a) Making it to Mount Everest Base Camp.
b) Get my body fat level below 10%.
c) Hitchhike across Latin America.
10. What 3 words would you use to describe yourself?
Disciplined, focused but impatient.
11. If you could live in any country in the world, where would you live?
Liverpool, UK.
12. If you won a lottery ticket worth $10 million, what would you do?
Retire and travel.
​