Back to Blogs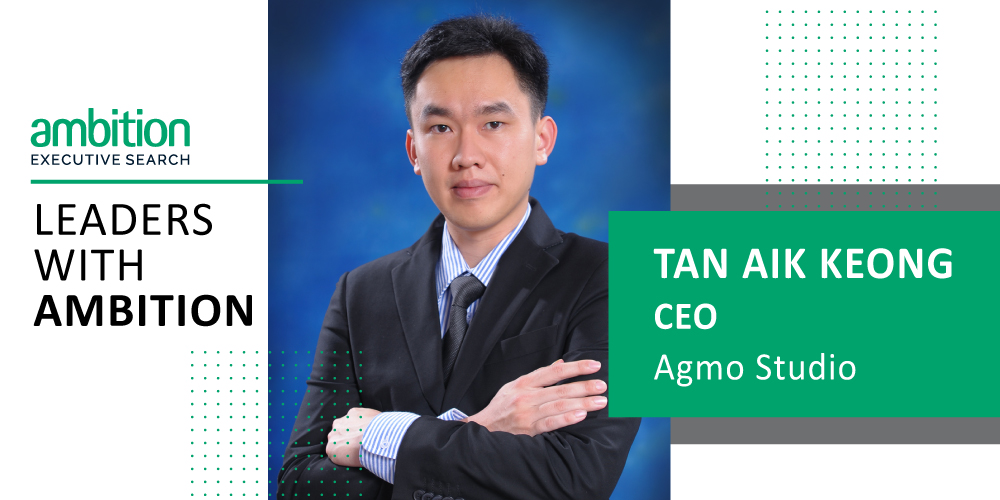 Leaders with Ambition – An interview with Tan Aik Keong
Start small and think big. Those are the words that Tan Aik Keong, CEO of Agmo Studio, lived by that got him to his current position. His ambition, coupled with how he puts people at the core of what he does, allows him to push himself and his team to greater heights. Learn more about how opposing forces only propels him forward in this article.
1. How did you get to your position today?
By working hard, really hard. I think that many of us nowadays are smarter with so much information readily available, but what differentiates us is that those who work harder are able to reach their goals faster. In today's world, everything changes rapidly and it's important to act fast to have the first-mover advantage.
I started out as a Software Engineer back in 2008 and then founded Agmo Studio, my own software development firm in 2012. We are one of the pioneers in the mobile app development industry, and today we remain a strong contender being one of the largest mobile app development companies in the country with more than 70 engineers on the team.
2. From your first job until now, what important lessons have you learnt along the way?
Start small and think big.
In our first year of business, we tried to be perfectionists and wanted to launch the perfect product. However, we learnt it the hard way and realized that our idea of the perfect product was not necessarily what the market needed. We put in so much effort into building the business hoping to make us the next Mark Zuckerberg that we almost burnt through our entire start-up capital.
From then onwards, we became big fans of building Minimum Viable Products. We became lean; we bootstrapped and built things quickly within a few weeks and performed market validation to decide on the next step. For instance, we recently launched the first Coronavirus Tracker mobile app within two days during Chinese New Year, we managed to be in the spotlight of the media as it is so newsworthy.
3. Who is your role model, and could you tell us a bit about them?
My role model is Elon Musk. I truly admire how he builds things that anyone else would think is impossible such as SpaceX, SolarCity, Hyperloop and OpenAI. We need more visionary leaders like him to advance technology further and make the world better.
4. What inspires you?
I am inspired and motivated by positive competition in the ecosystem. Whenever I see incredible achievements from my friends, peers or competitors, I will always ask myself "How can they do it so quickly? How can we do this? Are we moving too slowly?". Keeping myself updated with the ecosystem is essential to push ourselves to new limits and reminds us "We can do better. We can move faster".
5. What is your greatest achievement to date?
My greatest achievement to date is building and growing Agmo Studio to where it is today. We are well recognized as we've won awards presented by the government and other awards such as local, ASEAN, Asia and global awards. It's amazing to achieve and grow so much with the team within eight years.
On a personal level, helping others achieve success is considered an achievement for me.
I have started an F&B Business, Mama Dessert with a friend who always dreamt of starting her own F&B. She was a housewife who lost her direction in life after her spouse passed away. It's great to see her get back on the horse.

I am a technical mentor for MaGIC. I have helped numerous startups across Malaysia in various aspects: technical, fundraising, business model and product development.

I am a technology trainer. I have been spearheading and conducting mobile app development training across the region in countries like Thailand, Indonesia and the Philippines. It's certainly exciting to see some of my trainees become successful in the mobile app industry.
6. What is the biggest challenge you've faced in your career and how did you overcome it?
The biggest challenge I faced was back in 2012 when we almost burnt through all of our funding from investors. We basically had two-months of funds left and we could either beg investors for more money or count on ourselves to generate money for self-sustenance. We chose the latter and although it was much more painful, the journey made us stronger and helped us become what we are today. Basically, we pivoted our business model from B2C to B2B, developing technology products, which could be monetized immediately.
7. What is the most valuable advice you have been given?
"To be successful, learn how to solve the problems of society" – Jack Ma
With this quote, we have created our mission in Agmo Studio - "Using technology to make people's lives better". Throughout the years, we have been creating technology solutions with the objective of increasing people's productivity, reducing the cost of businesses and increasing the revenue of businesses. Although not all solutions come with a handsome return of investment, the outcome pretty much demonstrates that when we solve people's problems first, the reward will come later.
8. What advice would you give to professionals looking to excel in their career?
Here are the cultural pillars of Agmo Studio that I feel would be helpful:
AAA: Always try your best; it's not okay to be okay with something that anyone else can deliver
Kaizen: Continuous improvement is the way to sustain in the future
Do It: Take self-initiative and be accountable
Gotong-Royong (work together): Help others as others could help you in the future
9. What are 3 things in your bucket list?
Regional expansion: Our vision is to become the technology leader in the region. Thus, we want to start our first overseas expansion this year.

IPO: We want to list the company as a promise to reward our employees who have been working hard with us on this journey for the past eight years

PhD: Once everything is stable, I would like to pursue my interest in attaining a PhD in Artificial Intelligence. I believe in lifelong learning and that the only way to survive in today's world is to keep on learning and stay updated.
10. What 3 words would you use to describe yourself?
Geek

Workaholic

Opportunist
11. If you could live in any country in the world, where would you live?
I would still choose Malaysia. I simply can't live without Malaysian gourmet like Pan Mee, Nasi Lemak and Roti Canai.
12. If you won a lottery ticket worth US$10 million, what would you do?
I would want to start a tech academy for the less fortunate in developing countries such as Cambodia, Myanmar and Bangladesh. Poor people cannot choose to be born into a rich family, but with the right education, they have the opportunity to change their lives.
Throughout the years, we have been doing a lot of free workshops and talks related to technology at universities voluntarily with our non-profit association – Malaysia Mobile App Developer Association. But we think that the outreach is very limited due to limited resources and capacity as we have our full-time business to run. If there are sufficient funds, we can build a social enterprise, which can self-sustain and run the tech academy on a larger scale, to create more impact and help the people in need.