Back to Blogs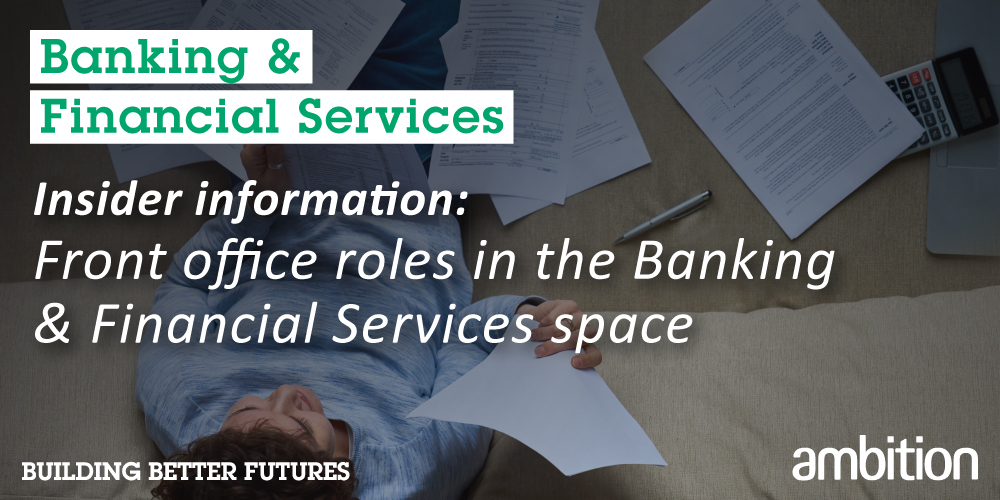 Insider Information: Front office roles in the Banking & Financial Services space
In the Malaysian Banking & Financial Services space, front office roles are constantly sought after and can be rewarding even in the early stages of a professional's career. It can seem like an attractive opportunity, but how do you know if the role is suitable for you?
Charlene Tan, a consultant from our Banking & Financial Services team, shares her experience and insights in this area.
​
What steps can professionals take to find out which if a front-office role in the Banking & Financial Services industry is suitable for them?
Front-office roles such as relationship managers are essentially frontline roles and require a lot of social interaction. To find out if these roles are suitable for you, try expanding your network of connections especially with key industry experts as they would give you the inside scoop on market insights.
​
What sector is up and coming in the Banking & Financial Services industry? What roles are currently in demand?
Private banking roles which cater to high-net-worth-individuals (HNWIs) as there is a growth in personal wealth in Southeast Asia.
As a recruiter, you work with many companies and candidates. Based on your experience, what are some of the candidates' expectations that you think should be adjusted?
The learning curve in their career. Candidates often expect to make tremendous progress in a short period of time, but they tend to forget that the foundation is just as crucial. Remember, the taller the tower, the stronger the foundation needs to be.
Candidates also need to adjust their salary expectations. Yes, everyone wants more money, but one needs to be reasonable. If you're asking for a larger increment, you need to be prepared to justify why. Find out how you can manage salary negotiations in this short video here: https://www.ambition.com.my/blog/2019/08/managing-salary-negotiations
​
Can you list 3 questions that candidates struggle with the most during an interview?
The 3 questions that candidates struggle with the most in front office interviews are:
1. What is your key achievement in your career or current role?
2. How do you think you can add value to the role?
3. How do you handle stress?
What is the best way to tackle these questions?
Be honest and prepare your answers before the interview. Review the skills that you have mastered throughout your career and put them it into well-structured sentences. There are tonnes of interview and career tips that you can get here: https://www.ambition.com.my/blog/tag/hot-tip
You can also reach out to us recruitment consultants if you ever need advice or guidance before your interview.
What attributes do employers look for when hiring?
If you're looking for a front-office role, there are four main attributes that employers look for:
Result-oriented

Positive attitude

Assertive learner

Team Player
​
How can candidates make the most of their recruiters?
Be honest and transparent with your recruiters on what your push and pull factors are.
Be prepared for your job application process. You can't expect a job to fall into your lap. You need to do your research and be prepared. We are here to assist you but remember, you're the star of the show.
Be responsive. You wouldn't want to miss the chance to reach new heights in your career. Recruiters will not call you without any solid reason so don't be afraid to pick up the phone. If you aren't looking for any opportunities, be straightforward and let them know.
If you have any queries or would like to find out more about the available opportunities in the Banking & Financial Services industry, reach out to any of our recruitment consultants here: https://www.ambition.com.my/disciplines/banking-and-financialservices-jobs