Back to Blogs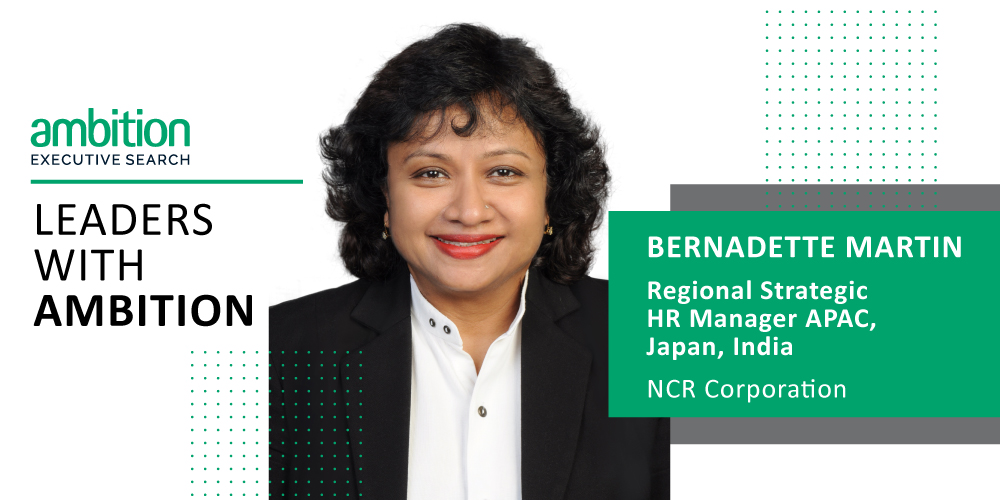 Leaders with Ambition - An interview with Bernadette Martin of NCR Corporation
1. How did you come to your position today?
My career began 21 years ago as a young executive at Astro - in Production. The journey and process of learning the ins and outs of the industry were very exciting. I spent 4 years in Production and then moved onto the Facilities Department before finally ending up in HR. As I grew in my career, I realised that I liked working with people and I liked helping to solve people-related issues. For that reason, I am where I am today!


2. From your first job until the present, what important lessons have you learnt along the way?
There's too many to pick from! I'll pick my top 3.

Firstly, treat people the way you would like to be treated. Treat them well - from the clerks to the Senior Management. Everyone deserves self-respect and dignity. When you spend so many hours at work, you want to feel good about yourself and you want others to feel the same way.
Secondly, do the right thing. This mantra is my guiding factor when I am forced to make a difficult decision, and it has always made it easier to swallow.
Thirdly, don't judge a book by its cover. I believe that everyone has something good to offer. Look at the positives and don't focus on the negatives. My constant advice to the managers I work with is when it comes to hiring, qualifications is a 'nice to have' element but the determining factor should be the candidate's attitude. Skills can be acquired but a person's attitude remains the same till the very end. My manager saw my passion and determination and gave me the opportunity to step into an HR role without any relevant experience and look how far I've come!


3. Who is your role model and tell us a bit about them.
This is going to sound a little cliché - my mother. My mother is a person who thrived for what she wanted. She was a homemaker but that did not stop her from helping my father support our family of 8 in whatever way she could. Together, they made sure we were all given proper education. Some of my siblings even got to study abroad.
I feel that she taught me to never give up and that success is all based on you, and how you want to achieve it. She inspired me by how hard she worked and how she never complained - always wanting the best for her family
.
4. What inspires you?
A true leader who lives by example and 'walks the talk'. I have had the privilege of working with many leaders with different characters and in a way, those combined experiences have moulded me to be who I am today. At present, I feel truly blessed to be working with a leader who has taught me the meaning of leadership. She is a true inspiration and the perfect example of a leader.


5. What is your greatest achievement to date?
My journey to becoming a HR Practioner, was by no means an easy feat. I thought I would not find anyone who would give me a chance. At long last when I did get it, I managed to prove naysayers wrong. I was someone without prior relevant experience yet managed to excel in a new role. It took a lot of prayer and patience, but in the end, I triumphed. Things got better with each organization that I moved into and with God's blessings I am where I am today.


6. What is the biggest challenge you've faced in your career and how did you overcome it?
My biggest challenge was when I had to make a choice of moving on from an organisation that I was working for 15 years. My friends had warned and discouraged me from it, citing that I would not be able to accept the change. Despite their concerns, I decided to risk it and took the plunge into a new organisation. Although it was a giant leap and I was not completely confident, it's the best thing I did as it got me to where I am today.

7. What is the most valuable advice you've been given?
Our life is a journey, it won't last forever so why not make the best of it and be happy! We will meet many types of people along the way. Some who will inspire you, help you and be by your side to support you. On the other hand, there are those who might make your life miserable by standing in the way of whatever you are trying to achieve. These are life lessons - learn from them and mimic the good bits. Don't repeat mistakes that have hurt you in some way and always remember that it's you who can make the difference in your own life.


8. What advice would you give to professionals looking to excel in their career?
Think about what you would like to do, and that nothing is impossible. Always find a job that you love, as this is going to be your life journey for the rest of your working days. You need to get up in the morning feeling happy to go to work, not dreading another day to go to the office. Take challenges and always have faith in yourself, don't let anyone tell you otherwise.


9. Can you give me 3 things on your 'bucket list'?
1. To have the chance to work abroad
2. Travel the world with my husband
3. When the grandkids arrive, to be able to spend time with them (not too soon I hope!)


10. What 3 words would you use to describe yourself?
Happy, Positive, Perseverance.


11. If you could live in any country in the world, where would you live?
I love my country, Malaysia, of course. But I have never had a challenge adapting to a new place. If there was a need to move, I think I will do just fine.


12. If you won a lottery ticket worth $10 million, what would you do?
WOW!! That's a lot of money. I would start my own social enterprise - providing opportunities to people to make a livelihood in a dignified way and maybe pamper myself by getting a Range Rover too!