Back to Blogs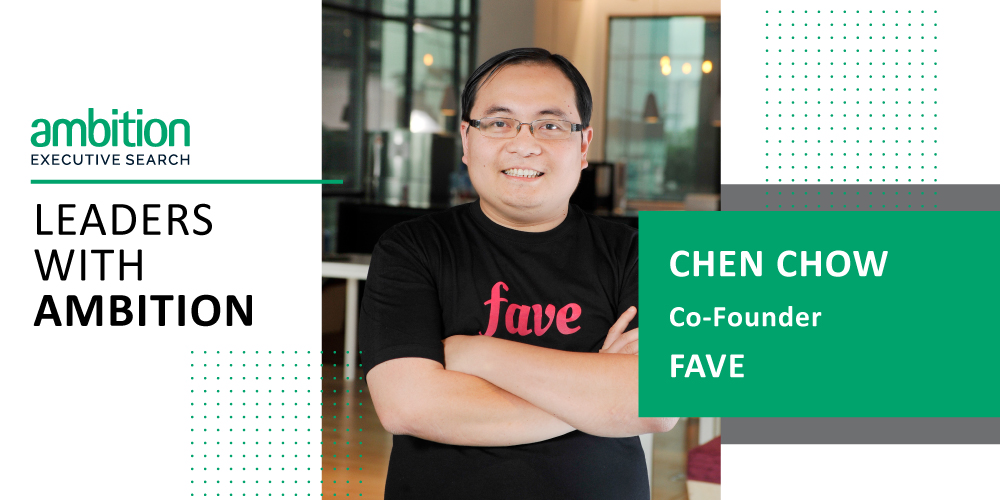 Leaders with Ambition - An interview with Chen Chow of Fave
Outside of work, he is involved with youth empowerment and education programmes, particularly through various non-profit organizations, like The Worldwide Malaysian Students Network (http://www.recom.org), Young Corporate Malaysians , US Applications Workshops and What's After SPM.
1. How did you come to your position today?
Funny story. When Joel Neoh first sold his company, GroupsMore, to Groupon, I sent him a congratulatory message. A few days later, he replied and asked to meet with him for supper, but little did I know, it was an on-the-spot interview. I was completely caught off guard as I was extremely underdressed! The rest, as they say, is history as we've been working together for over 7 years – initially at Groupon and now as co-founders of Fave.

2. From your first job until the present, what important lessons have you learned along the way?
First, always surround yourself with the best and the brightest. Many of my colleagues from my first job at Accenture are now senior leaders at Grab and that is truly a testament to their capabilities, and of course their continuous hard work. I believe that if you work with people who are smarter than you are, there is a lot to learn from them.
Second, always aim high. I constantly challenge myself and my team to, at times, aim beyond our own expectations of what's possible. Only when you aim high, will you truly challenge yourself to think out of the box and go above and beyond. I constantly remind my team, "Tough times don't last, but tough people do".
Lastly, work for a company or for a cause where you believe in the mission. How many people really wake up on Monday excited to go to work? I do! I believe in what Fave is doing and every day, I can't wait to walk into the office, to work with the team, and to make magic happen.

3. Who is your role model and tell us a bit about them.
I have many role models - one of whom is my co-founder, Joel, who never fails to inspire me. His ability to see into the future, connect the dots and communicate the vision effectively is simply outstanding. He is always positive and believes that if we set our mind to make something happen, it can. He frequently reiterates the phrase, "Think big, start small, fail fast, scale faster".

4. What inspires you?
My team! Since starting Fave, we have gone through a lot but our team's never-ending commitment to ensuring our customers and merchants get served to the highest level, is truly inspiring. It is always heartening to see how the team goes above and beyond, to provide the best for our customers, merchants or colleagues. Even if there's an issue on a Saturday night, within a couple of minutes someone from the team would volunteer to own the problem and solve it. They truly embody the value of "Extreme Ownership".
5. What is your greatest achievement to date?
Last year, we acquired the Groupon South East Asia businesses (Indonesia, Malaysia, and Singapore). To be one of the few startups based in Southeast Asian to acquire subsidiaries of billion-dollar giants like US-based Groupon is an achievement on its own. But the team went one further by getting straight to work on the migration, integration and rebranding from Groupon to Fave. It wasn't something we knew how to do, but the team pulled through together to make it happen!
6. What is the biggest challenge you've faced in your career and how did you overcome it?
When we first started KFit, we expanded across the APAC region and subsequently had to, shut down operations in some markets. Having to go to those countries and personally explain and apologize to the employees there were some of the toughest moments of my career. But it was the right thing to do for the company at the time. I made sure that we were honest about the situation and provided as much support as we could to the staff who were affected.

7. What is the most valuable advice you have been given?
Never stop learning. Most people think that once you graduate from university, there's nothing left to learn. Personally, I strongly disagree! I am constantly learning and engaging whether it is from books, colleagues or other entrepreneurs. I recently held a Book Club over lunch the other day at work where a group of us share ideas on the books we're currently reading. There's also a group formed called "Learn, Unlearn and Relearn" where we hold sessions to share and learn from each other.

8. What advice would you give to professionals looking to excel in their career?
Find a company where you believe in their mission and where the emphasis is on hiring the best and the brightest. Even at the start of your career, if possible, avoid choosing a job based on monetary factors, but go with the company which you think will offer the best learning curve, and optimize the opportunity.

9. Can you give me 3 things on your 'bucket list'?
Travel the world, meet a world leader like Barack Obama and build Fave into one of the world's largest startups that truly makes an impact on offline businesses and consumers.

10. What 3 words would you use to describe yourself?
Passionate, empathy and number-centric
​
11. If you could live in any country in the world, where would you live?
Malaysia is where my home is and where I want to be for the rest of my life. Lots more for us to work on to build for our tanahair, including, hopefully, one day to build Malaysia as one of the technology hubs for the region, where we would see startups and scaleups flourish, and also develop lots of talented and transformative developers, engineers, product managers, business intelligence folks for the region.