Back to Blogs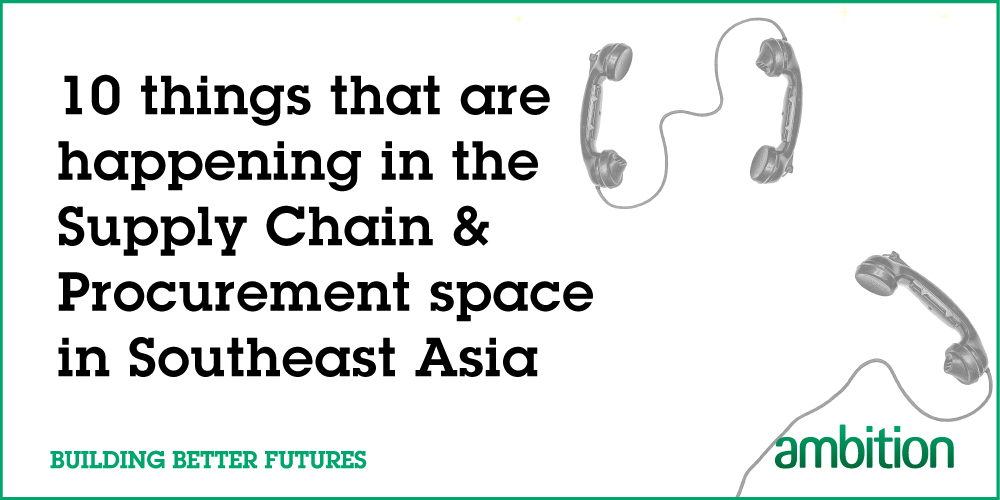 10 things that are happening in the Supply Chain & Procurement space in Southeast Asia
In light of global economic growth, rising purchasing power and increased wages, MNCs are generally moving their Supply Chain & Procurement operations to developing countries in Southeast Asia. Despite the benefits such as cost reductions and higher efficiency, this modification has its setbacks. The challenges in the region have occurred due to a shortage of leadership executives, lagging and tight fulfilment periods as a result of e-Commerce. Therefore, professionals looking for opportunities in this space need to be mobile and ready to adapt to life in Southeast Asia. Read more to find out what other recent changes the industry has had to weather.
With a larger middle-class community, there's been a boost in the healthcare industry across Asia that caused a spike in manufacturing output – pharmaceutical products in particular.

Manufacturing has been moving out from Singapore and more to Vietnam, Indonesia, Thailand, and Malaysia as firms look to localise their Supply Chain and Procurement teams. Regional and senior roles within Supply Chain and Procurement will increasingly continue to be based in these countries. Foreign talent have been given opportunities there and are open to working in these countries.

There has been an increased focus on distribution in Indonesia, Thailand and Vietnam as these emerging markets look to further develop their supply chain. With an abundance of natural resources, these countries have only been able to distribute products locally as they lacked the correct channels, strategy and management to access the global market. Until recently, all 3 markets have been aggressively hiring high profiled senior procurement and supply chain professionals in efforts to improving the distribution of local products.

The measures by the Singapore government to tighten foreign manpower rules has steered senior regional supply chain professionals to seek roles in developing countries like Thailand, Indonesia, Malaysia & Vietnam. To capitalise on this, there is an increasing trend of firms in these countries offering attractive salary and bonuses packages to incentivise highly skilled professionals to join their growing teams.

Large global organizations are centralizing their support for procurement and supply chain functions to Malaysia and the Philippines to consolidate business processes for a small region or globally. Shared Services is the way forward in the world of procurement as centralized procurement processes has shown signs of higher efficiency and lowering the cost of hiring in developed countries. For instance, a German chemical company moved functions like buyer, indirect procurement, material planning and direct procurement has to Malaysia to service 15 countries globally from this centre.

MNCs are ramping up the implementation of new technologies in ASEAN to lower the cost of operations and to increase productivity. However, we are strides behind our counterparts in Europe and the U.S. due to the lack of essential knowledge and expertise in this space.

E-Commerce giants such as Lazada, Alibaba, Shopee, Taobao and Amazon, are expanding their supply chain talent to ensure their processes are seamless. High-calibre management consultants have been appointed to run process and continuous improvement as well as their distribution centre.

Third-party logistics (3PL) business is booming thanks to high volumes of sales and the expansion of e-commerce platforms across ASEAN. Examples of some key contributors are annual Cyber sales and Black Friday sales on Lazada and Alibaba.

3PL companies like Ninja Van, Lalamove and Gojek are engaged to support the rapid growth of e-commerce sales across ASEAN countries. Even national postal services in ASEAN such as Pos Laju (Malaysia) and Singpost (Singapore) are dipping their toes in this area.

The 3PL industry has seen a switch to app-based and high tech distribution. Candidates in this space will have to look at new ways to tackle the ever-growing e-commerce market.