Back to Blogs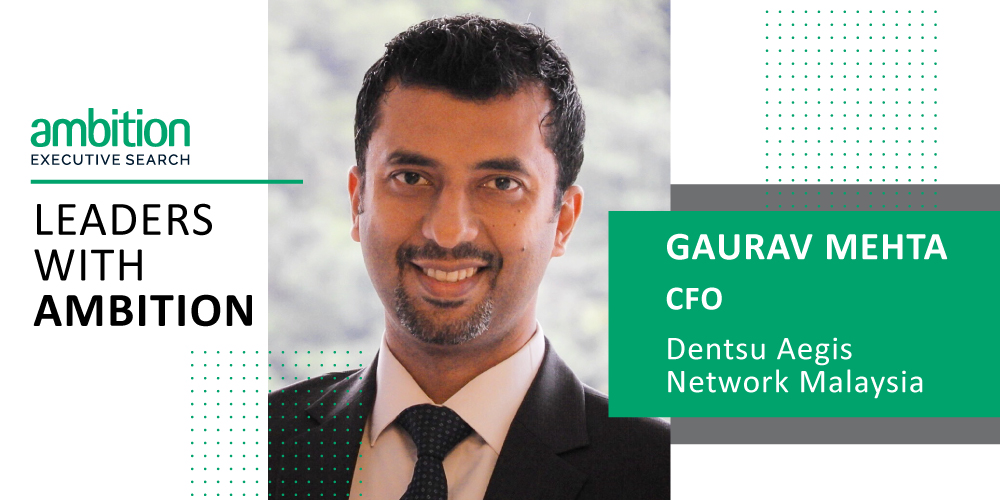 Leaders with Ambition – An interview with Gaurav Mehta
Could you imagine being in a situation where you joined a company and the nearly the entire team had quit? How would you react and what would you do if you encountered a similar situation? For Gaurav Mehta, Chief Financial Officer at Dentsu Aegis Network Malaysia, it was not just a hypothetical scenario. He faced this immense challenge, learnt how to manage the situation and rise above it. To find out what he did and hear about other interesting anecdotes from his illustrious career, read our in-depth interview with him:
​
1. How did you get to your position today?
I started off my career working in the aviation industry and later ventured into the more dynamic and fast-evolving advertising industry.
Over the years, through working in fast-paced and rapidly changing work environments, I was able to add value to the businesses I was working for. I managed to forge good professional connections and as one thing leads to another, one of my ex-bosses (and mentor) in London referred me to this role in Malaysia.
In the early stages of my career, I had never aspired to be a CFO. However, I kept taking small steps towards achieving small goals and adding value to stakeholders. This led to bigger avenues opening up and I ended up in my current position.
​
2. What motivated you to follow your chosen profession?
Well honestly it was not really a chosen profession, it just happened. Back in those days, you did not have amazing alternate career opportunities as you do in today's digital age. All you could choose was to become a doctor, engineer, financial accountant, pilot or some other cliché profession.
However, while working in this profession, the pleasure of solving complex problems for the business and clearing bottlenecks that hinder business sustainability and growth has charmed me to continue in this profession. Acting as a business partner and being able to help young finance professionals by guiding them towards their goals have kept me going.
Finance is no longer a back-end function as it was construed to be years ago. It now plays a front-end business partnering role, which has been the main driving factor of my motivation through the years.
​
3. What important lessons have you learnt in your career?
Always believe in yourself and keep evolving. Learning is a never-ending process. Given the pace at which the world is moving and how capabilities are transforming, it's imperative to gain knowledge about businesses, future trends and how to be highly adaptable.

People are the most crucial assets, be it in the professional or personal context. Invest in building sensible, meaningful and trusting relationships with people. Have a strong team to be successful. You are only as strong as your team is.

As a Finance professional, there will be times when you will have to make difficult choices. You can either act prudent and cautious or be ambitious and take calculated risks. Whatever decisions you make, stand by it. Keep an eye on their progress and never wait too long before acting.

Be an early mover. This applies in any business; an early move will put you way ahead of your competition. Once you have done your due diligence and identified the right skillsets, make a move.
​
4. Who is your role model and tell us a bit about them.
Over the course of my career, I have come across many wonderful leaders and mentors whom I've worked together with. One person who definitely stands apart is Simon Lee, he used to be the Asia Pacific CFO for one of the previous organizations I was working with. His style of supporting his team, giving them space to experiment with new tasks, allowing them to take calculated risks, and most importantly giving them support if something went wrong. He was always there to protect you and bring you back on track. I think that comfort and freedom to try out new ways of working helped me explore more and always pushed me to do more than what I was supposed to.
He was soft=spoken, seldom lost his patience, was very practical and pragmatic, and most importantly he would trust you no matter the circumstances. Everything that I learnt from him, I still apply today and try to replicate with my teams.
​
5. What inspires you?
When a client appreciates your work, values your contribution and acknowledges that you went the extra mile, it inspires you to keep up the momentum and deliver consistently.
When your team trusts you with anything, even if you give them a decision that on the surface seems detrimental. Despite that, the team is assured that you must have thought it through and it's the only best solution. Building such trust from the team keeps me inspired to do more for them and help them grow as professionals.
A supportive and understanding family who understands your potential and gives you the freedom to explore without creating restrictions; inspires me to achieve more for them.
​
6. What is your greatest achievement to date?
As a Finance Professional and also as a Business Partner, it's very important to know when to draw the line and think things through. As you are part of the finance function, you may be expected to maintain control, follow policies and ensure compliance. However, while wearing your business partnering hat, you would be required to move swiftly, make quick business decisions and clear bottlenecks. It sometimes gets difficult and the two can contradict when you try to manage both functions together. It creates the possibility of skewing in either direction, thereby compromising the other.
As my career has matured over the years, I have learnt how to maintain the right balance between compliance and control, and business growth and scaling quickly. My greatest achievement is that I was able to build trust with the business stakeholders, who stand by my decisions, even if it means the business has to take a step backward in order to remain compliant. With this trust, they remain firm in their beliefs that I would have taken all measures possible.
​
7. What is the biggest challenge you've faced in your career and how did you overcome it?
The finance team had quit. I was joining my new workplace and a week before I was due to start, I received a call from HR who told me that there was no finance team as they all had quit, including the incumbent CFO. The only people remaining in the team were 2 junior employees. I had to re-align my strategy of how I would have liked to start my role as there was no handover, no backups, no knowledge transfer, and no team.
Regardless, I joined a week later. I managed to spend some time with the CEO. It was important to understand the business priorities and in which areas support was missing, especially as there was no finance team. In the same vein, I had to understand the gaps in finance processes, audits, financial reviews and the reasons for the team's departure, while initiating course correction and driving improvements.
I started to prioritize the activities:
Clients could not have been left waiting. So, I went straight to ensuring the business could continue to receive the right support from finance, even if it meant that I had to stretch and clock extra hours every day. I then started to meet clients every week.

I would meet at least 3-4 candidates every day to find the right team members who could take up the challenging scope and would be the right fit for the roles.

I started to spend the time with the Business Directors to understand their challenges, identify areas where support was lacking and to find out their expectations of finance. Even though I didn't have enough resources and bandwidth to make immediate corrections, it was still good to conduct and record this assessment.

I worked with HR and sought training avenues for the 2 existing employees so that they could upskill and pick up critical responsibilities.

I built the right connection with the CEO. This meant discussing the function's plans on a weekly basis; the actions that have been taken and the actions that were to be taken in subsequent weeks. We were working as partners and solving complex business problems together sooner than expected.
Fast forward 6 months, we were back on track with the right finance team, business support processes were better than ever, clients were happy with the change, we were starting to look at the internal controls, and we were beginning to clean up the balance sheets and manage satisfactory audits.
In the beginning, it looked and WAS daunting. However, it was extremely satisfying to have thrived through that experience.
​
8. What is the most valuable advice you have been given?
The quote below resonates strongly with my current thought process. I have never forgotten this piece of advice I received from one of my leaders, whom I had the privilege of working with, Puvanan Thraisamy (ANZ CFO, Publicis Communications).
"You do not have to be the smartest person in the room to lead. Leading means making decisions based on the advice from smart people. You will make good decisions and you will make bad decisions. Either way, MAKE THEM. Not making a decision is not an option and most importantly bad decisions are not failures. It only becomes a failure if you are afraid to not admit it and learn from it."
​
9. What advice would you give to professionals looking to excel in their career?
When I interact with many of the young professionals these days, I see a lot of passion and energy to make an impact. They want to be changemakers. However, there is a bit of impatience there as well; the expectation of instant gratification.
It's a long life and there are many milestones to be achieved. Never get demoralized by temporary failures or incorrect decisions. Identify your long-term goals, stay focused and keep moving towards it. As you go along, don't forget to make friends, have lasting meaningful relationships and relish the journey as well.
Additionally, it's very important for professionals to understand their niche. As a finance professional, your niche could be financial business partnering or planning and analysis, while someone else could be good at auditing. Whatever your niche is, do more than just that. Keep an "intern" mindset of developing yourself and be always willing to learn and do more.
​
10. Can you give me 3 things on your 'bucket list'?
Solo travel to every part of the world

I'd like to own and run at least 1 shack on a beach and 1 bar on a hill

Go on an African safari at Masai Mara National Reserve
​
11. What 3 words would you use to describe yourself?
More than 3 just words:
Always available when needed

Open, transparent and welcome constructive criticism

Rational and approachable
​
12. If you could live in any country in the world, where would you live?​
I have always been very fascinated by the different cultures and landscapes across regions. If I could, I don't think I will restrict myself to live in any one country. But if I were to choose one, I would like to be in Australia.
​
13. If you won a lottery ticket worth US$10 million, what would you do?
Keeping in mind the volatility and complexity of the uncertain times (VUCA), if I were to win a US$10 million lottery, I would sensibly invest part of it with steady regular returns to secure the future. I would then use the rest to travel around, experience other cultures and explore different territories.