Back to Blogs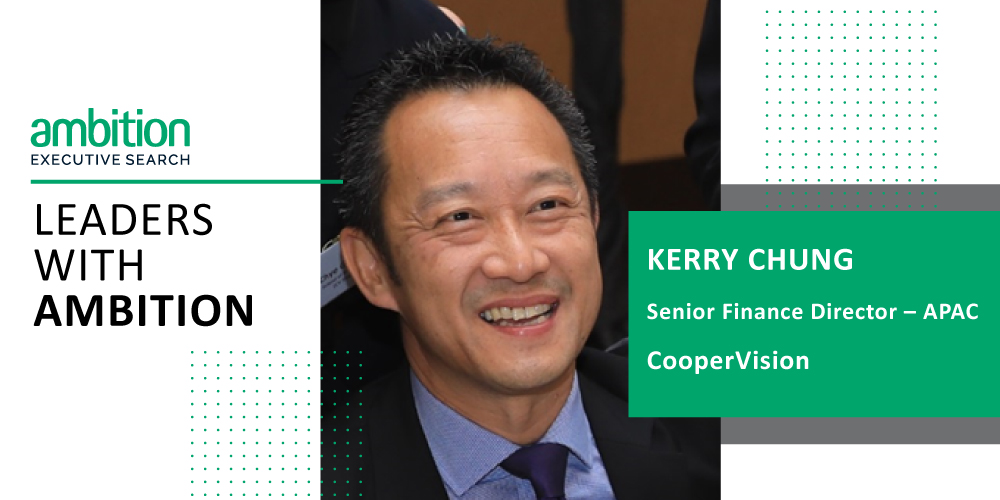 Leaders with Ambition - An interview with Kerry Chung of CooperVision
Hear from Kerry Chung as he shares his story of how he moved towards working for organizations that make an impact in their customers' lives. His experience spans numerous companies, in consumer goods, biotechnology and medical devices, and several geographies. Through his experience, he has worked with interesting people and picked up critical lessons that he shares in this interview. Kerry is currently the Senior Finance Director – APAC at CooperVision.
CooperVision is one of the world's leading manufacturers of soft contact lenses and related products and services. The Company produces a full array of monthly, two-week and 1-day lenses, all featuring advanced materials and optics. CooperVision has a strong heritage of solving the toughest vision challenges such as astigmatism and presbyopia. Through a combination of innovative products and focused practitioner support, the company brings a refreshing perspective to the marketplace, creating real advantages for customers and wearers.
1. How did you get to your position today?
I wanted to be involved in companies that had well-known brands or products, which is what drew me to Mars, Energizer, and Kimberly-Clark. Along the way, what became as important was working for an organization that really made a difference in people's lives. I got that when I joined Genzyme, a company focused on helping people who need enzyme replacement therapies – of which there may only be a few thousand globally. These individual patients became very important and significant, and I loved working in that environment. Today, I work at CooperVision, which aims at improving the way people see every day, which still speaks to making a difference in people's lives.
2. From your first job until present, what important lessons have you learnt along the way?
The numbers always tell a story.

Treat or manage people how you would like to be treated or managed.

Simon Sinek's "Start with Why" really resonates with me, in that people will work hard for something they believe in.

People development at the individual level is critical - that is why I am a strong and active advocate of mentoring, bubble assignments and I also run training in my current organization across multiple functions.

Forming and maintaining networking or working relationships across the organization is very important, given the "matrix" nature of work these days.
3. Who is your role model and tell us a bit about them.
My role model was the Asia-Pacific President in a previous company that I was with. What I liked about him was that he had a great character - approachable, candid (he called things the way he saw them), but he was also a great listener and a fierce supporter of his people. He gave us opportunities to stretch ourselves and grow, whilst always making sure that we felt we had his trust and confidence that we could do it. He garnered a loyal following across the region, and his Irish sense of humor really helped as well!
4. What inspires you?
I like coaching and mentoring people to help them become better managers and leaders.

I like seeing people in my team stretch themselves and accomplish things that they may not have otherwise achieved.

I like working on business strategy with others and setting up a blueprint for continued growth.

I like achieving the goals that the team has set for themselves.
5. What is your greatest achievement to date?
Over the past few years in my current role, I have (hopefully) helped to reset the bar on what good Finance business partnering is. This involves influencing others in my team to also evolve and change towards being more collaborative and commercially supportive.
6. What is the biggest challenge you've faced in your career and how did you overcome it?
The challenge came after the acquisition of the previous organization I was with and I saw the entire culture of the company change overnight when the acquiring management came in. It was a very challenging time, knowing that our APAC regional team (which I would still consider as the best leadership team that I have worked for) changed very quickly. I stayed for a while during the integration but knew that my position would be eliminated, so I exited.
7. What is the most valuable advice you have been given?
Treat or manage people how you would like to be treated or managed.
However challenging, give honest, timely and constructive feedback to others.
8. What advice would you give to professionals looking to excel in their career?
Whilst you are gaining valuable work experience, do take the time to work on and develop your soft skills. These include skills such as managing people, giving feedback, communication, influencing, story-telling, being an authentic leader, having critical conversations and negotiation skills. They are just as important as the actual work that you do, especially as you move into roles of increasing responsibility and complexity.
9. Can you give me 3 things on your 'bucket list'?
To be at a Rugby World Cup final where the All Blacks are playing

Take a year off to get a Fine Arts degree in Painting and Printmaking

Own or run a record store
10. What 3 words would you use to describe yourself?
Enthusiastic, team-player and a people-person.
11. If you could live in any country in the world, where would you live?
New Zealand - it's still home, even after 25 years working in Asia.
12. If you won a lottery ticket worth $10 million, what would you do?
Invest in a startup!