Back to Blogs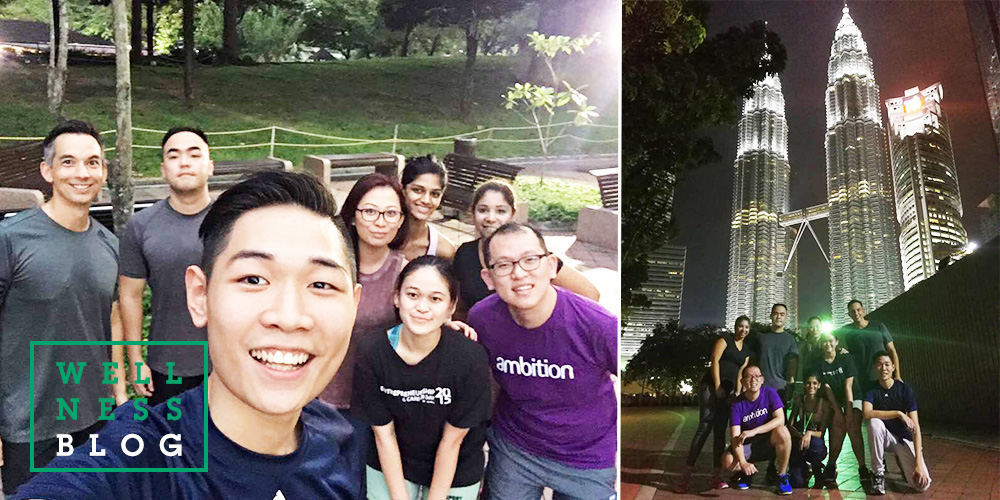 Taking a leaf out of Ambition Hong Kong and Ambition London's books, our Ambition Malaysia office held our first Health and Wellness session in KLCC Park last night and I was pleased to take part.
The benefits of Wellness are well documented and whilst we do not have a formal Wellness programme at Ambition, we do have a passionate team that took the initiative to kick off these sessions. As a business that prides itself on its ability to spot and nurture great talent, we hadn't expected our IT Manager to be such an enthusiastic boot camp coach who ran a great session for all of us!
The benefits of Wellness activities have been shown to include the reduction of stress, improved physical fitness, improved productivity, healthier lifestyles, increased happiness and they're fun. I certainly enjoyed the session and look forward to them going forwards. I would encourage companies of all sizes to encourage and support these initiatives. As a boutique business, we do not necessarily offer the expensive schemes that some of the large corporate multinationals or banks offer. However, instead, we take on a more flexible approach. Currently, we have routine benefits which include medical coverage, generous annual leave schemes, additional birthday leave, recognition awards and more.
Wellness does not need to be an expensive initiative, it just requires space, coordination and a collaborative team culture. Clearly having an in-house trainer also helps, but as I found out last night, that talent could be hidden in an employee you least expect!
Ambition is a leading global boutique recruitment consultancy. We specialise in recruiting positions in the areas of Digital, Sales & Marketing, Technology, Finance and Accounting, Banking and Financial Services, Supply Chain and Procurement and Executive Search. If you are looking for work in these areas, or need to hire great talent for your teams, please get in touch and we can advise how well placed we are to help.

To find out more about Ambition in regards to your career path or talent needs, please do get in touch.